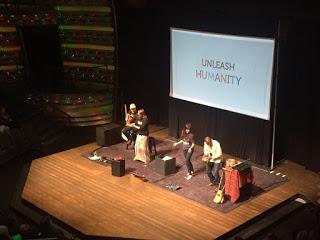 Photo of Aging Avengers L-R Nate, Jennifer, Kyrié, & Samite courtesy of
 University of Southern Indiana Photography & Multimedia. 
Evansville, Indiana enjoyed the opportunity of hosting Dr. Bill Thomas and other Aging Avengers on Monday, November 6, 2017. 
The visit was organized by 
University of Southern Indiana
's Center of Healthy Aging and Wellness, but adults of all ages from the broader tristate (IN, IL, KY) community attended. The venue was USI's beautiful, nearly 300 seat Performance Center.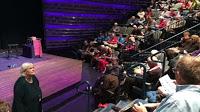 Dr. Ann White, dean of USI's
Collegeor Nursing and Health Professions,
welcomes attendees.
The day consisted of three events:
* "Disrupt Dementia" in the afternoon
* "Life's Most Dangerous Game" in the evening
* "Lobby Experience" in between
All events encourage people to radically redefining aging. The benefits are not just for older adults.
By recognizing the life stage of elderhood, every generation benefits by working together to improve the greater society. 
Disrupt Dementia
Disrupt Dementia
is a musical and storytelling event focused on rewriting the narrative about dementia from one of isolation and victimhood to one of connection and empowerment.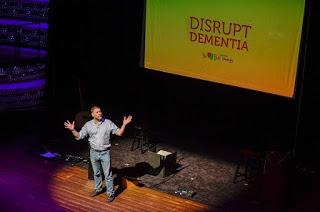 Photo courtesy of University of Southern IndianaPhotography & Multimedia.
I was pleased to learn that the performers practice what they preach. 
The program emerged in collaboration with a group of people in Seattle living with dementia. 
Labels convey a lot of power, so it's notable that this group chose
Momentia Seattle
, to highlight the value of living fully in the moment.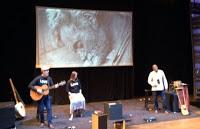 Silas, Jennifer & Samite performing
"My Mother Calls Me Baby."
Because the program eschews scientific language in favor of song and storytelling, the audience has a more full-body learning experience.  
The audience was delighted to hear (L to R) Nate Silas Richardson, Jennifer Carson, and Samite Mulando sing. 
Music conveys the humanity that people with dementia still possess if others will just listen.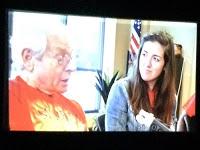 Kyrié serves as a witness in a
Momentia Seattle video clip. 
One of the most moving elements of the program occurred during a video clip of a Momentia Seattle member explaining that dementia gave him unexpected gifts. 
To paraphrase, he found benefits in losing his inhibitions and opening himself up to being more loving.
As a memento of the afternoon, I purchased
Healing Dementia
by 
Kyrié Sue Carpente
r
,
  (one of the Aging Avengers / performers).  
I'm striving to accept her book's invitation to see the limits of adult cognition in favor of a more emotional, extra-rational approach to living. 
Life's Most Dangerous Game
After dinner, a larger cast performed their non-fiction theater event "Life's Most Dangerous Game." It's difficult to summarize since the topics were far ranging and the presentation styles were varied.  
My description?  The evening performance used song, story telling, and personal anecdotes to complicate images of aging. Every living person ages and has a relationship to elderhood.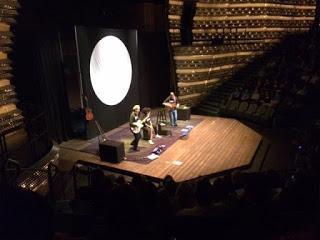 Wizened Dr. Bill Thomas (right)
lives life without fear, silences his critics, and sings!
Too often, people maintain a narrow view of aging, one that emphasizes physical decay.  However, older adults are more rich and complex than most people are willing to recognize.  
And socially engaged elders are central to the formation of a healthy larger community. In other words, everyone benefits when older adults collaborate with people of all life stages. 
Here is one example. 
Yes, older adults might have a more limited ability to quickly store information into short-term memory, but they have an increased ability to synthesize information and to interpret situations meaningfully.
Young adults and older adults can then work together to synthesize their different skill sets by working on common goals.  
Again, the program practices what it preaches by having performers and technicians of various ages using different skills sets to create the evening's performance.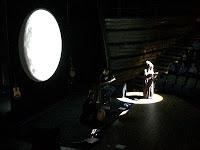 With the mooon as a backdrop,
Namarah as a crone elder.
Even though many of the performers have advanced academic degrees, the evening is not a data-crammed lecture. Instead, the vignettes are filled with myth, storytelling, music, and drama. 
Namarah,
a multi-media artist
and one of the Aging Avengers / performers, powerfully depicts a couple of goddesses in the retelling of two myths about aging. 
However, my favorite part of the evening performance was the dramatization of a scene from a novel, Tribes of Eden, written by Dr. Bill Thomas.
In a scene late in the novel, the protagonist, Emma, has aged to the point where she transitions from a midlife adult to an elder. Namarah depicts an elder initiating Emma into a new life stage. 
(This might be a good place to point out that I have secured vanity plates in two US states that read: Crone 2B, meaning "to be" or future crone.)
Lobby Experience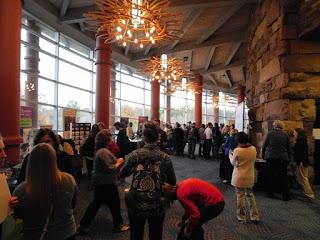 Photo by Mary Scheller of USI.
I didn't have the opportunity to visit every station in the lobby, but there were several activities: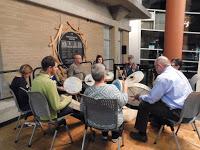 Drum Circle.
* A drum circle
* A kickboxing instructor who works with people living with Parkinson's disease * Information tables from various local services for older adults
* Video interviews by Mike Bolander from the Changing Aging team * A merchandise table staffed by the Aging Avengers  * And more! 
Did you miss the tour? 
You can watch a couple of minutes here! 
 Related:
Is Evansville the One?
Books on Aging and Spiritual Growth
The Ultimate Performance Art: Love