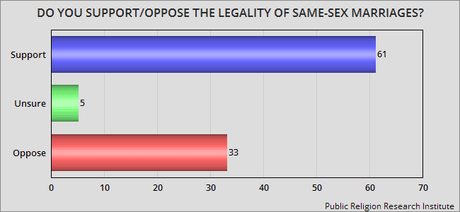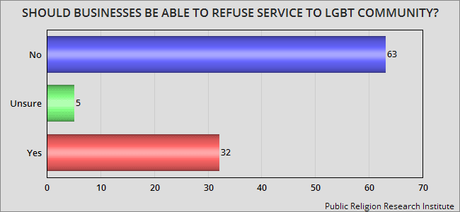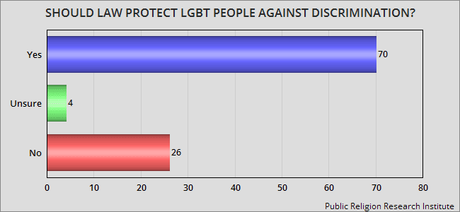 Evangelicals in the United States are still fighting against giving members of the LGBT community equal right. They want to overturn the Supreme Court verdict allowing members of the same-sex to marry, let the law allow businesses to refuse to serve members of the LGBT community, and allow  discrimination in the workplace and housing against LGBT community members.
It's a shameful position they take, and to justify it, they try to hide behind their religion. But their vile views are not shared by most Americans. Americans support the legality of same-sex marriages by a 28 point margin, oppose allowing businesses to refuse to serve LGBT people by a 31 point margin, and want to see the rights of LGBT people protected by law by a 44 point margin.
Evangelicals may not be ready to admit it, but this is a culture war that they have already lost.
The charts above are from a Public Religion Research Institute survey -- done between October 18th and 30th of a random national sample of 2,019 adults, with a margin of error of 2.6 points.