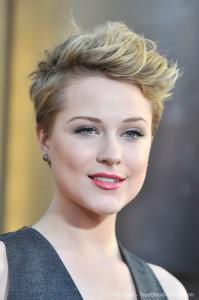 Evan Rachel Wood at True Blood Season 4 Premiere
The Ojai Conference, which began Aug. 2, allows the public to attend performances of works in progress as part of the Summer New Works Festival presentations, which take place Aug. 9-14. Robert Egan serves as artistic director.
Evan Rachel Wood, will co-star with Carpinello (Xanadu, Rock of Ages, Saturday Night Fever) in a cast that also includes Rob Morrow ("Northern Exposure," The Exonerated), Gina Loring and Liam Springtorpe in Black Sun which will be presented Thursday,  Aug. 11 at 7:30 PM in the Matilija Auditorium.
Here's how the musical is billed: "Eight New Yorkers – some new, some old, some just returning after having given up – confront perplexing questions and surprising answers in the wake of a world where the sun has disappeared. At first the Black Sun lasts only 23 seconds, creating havoc and moments of solace. But this upside down world eventually becomes permanent. Everything turns into something totally strange and revelatory."
source: playbill.com