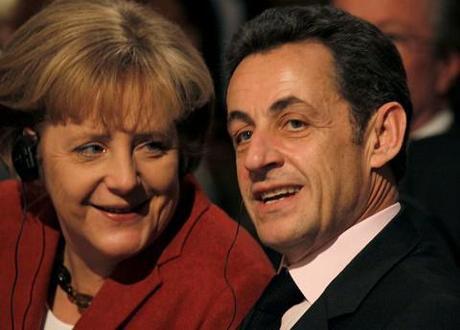 French President Nicolas Sarkozy and German Chancellor Angela Merkel. Photo credit: Sebastian Zwez
France and Germany have agreed a rescue plan for the crisis-hit eurozone. German Chancellor Angela Merkel and French President Nicolas Sarkozy reached an agreement this weekend to recapitalise ailing European banks. But we'll have to wait to find out the details: Merkel and Sarkozy declared at a joint press conference that they will present the plan at the G20 summit in November. Let the speculation begin.
"We are not going into details today," German Chancellor Angela Merkel said at a press conference following the German-French summit in Berlin.
Tory turnaround? Let's hope the plan lives up to David Cameron's expectations. The UK Prime Minister told The Financial Times that European leaders should adopt a "big bazooka" approach to the debt crisis in the eurozone, arguing that time is running out. Cameron also urged eurozone leaders to acknowledge their "collective responsibility" for establishing financial stability. The Economist's Bagehot column acknowledged the "unusual spectacle" of the Conservative leadership calling for greater eurozone integration, arguing that this is down to political and economic pragmatism: "Tory leaders are as sceptical about the euro as ever. But in an emergency, they warily accept, any lifeline will do."
""We are very conscious that France and Germany have a particular responsibility for stabilising the euro," President Sarkozy told the press conference.
The catalyst. Writing for the BBC, Robert Peston argued that it was the Dexia crisis that galvanised eurozone leaders and convinced them of the need for a comprehensive rescue plan. The European bank came close to collapse last month, but is due to be rescued by the French, Belgian and Luxembourg governments. Peston pointed out that the bailout is not without potential downsides, writing that there is a chance "loans to eurozone countries like Belgium and France will be seen to be more or less at risk".
Private or collective? Bill Emmott set out in The Times the fundamental difference between the French and German approach to bank recapitalisation: while France believes injections of capital should come from the European Financial Stability Facility (EFSF), the collective eurozone rescue fund, Germany favours a combination of governmental and private investment. Of course, as Merkel and Sarkozy are remaining tight-lipped, we won't know which approach they're adopting until November. Emmott favoured the German proposal: "An EFSF recapitalisation could be legally dodgy and anyway would use up capital that the fund is supposed to be keeping ready to support governments that are short of liquidity," he wrote.
Markets rally… for now. According to David Brett at Reuters, the announcement of the rescue plan has helped the FTSE to rise. But Brett also reported that financial analysts remain cautious, with fears that further credit rating downgrades could hit markets hard. Writing for The Guardian, Nils Pratley insisted that the secretive nature of the plan will do little to calm the markets, as investors have no idea how Germany and France would overcome their ideological differences. Pratley also argued that Merkel and Sarkozy are too fixated on Greece, while "the real worry" is Italy.