I know you're wondering why I'm calling this ~european tuna salad~?  Well, even if you aren't, here's why~~it's got old world flavors & ingredients and I can imagine myself sitting at a Parisian Cafe on a warm Spring day ordering this with some hot crusty French bread and a chilled glass of chardonnay.  I'm doing nothing but savoring the flavors, people watching, and enveloping myself in the mystery and magic of this city of love.
My imagination is pretty robust &  healthy and it's what fuels my recipes as well as my life. That's my 'boho' spirit of dreaming, wondering and wandering in this huge amazing world of possibilities.  So, rather than stick to a traditional tuna salad recipe, I decided to give mine, according to my tastebuds and my world, a European flair! There's an extra chair here at my table, come sit, and have some eats with me!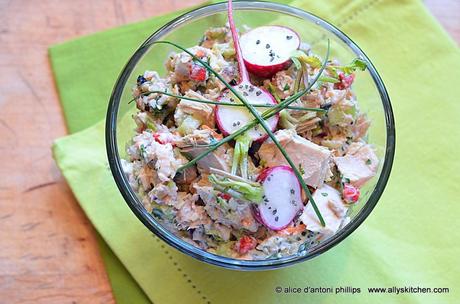 Serves: 8+
What you need:
6 (5oz) cans of white albacore tuna in water drained
1 cup chopped broccoli slaw mix (found in produce department)—roughly chop in food processor
½ cup sliced celery
½ cup diced roasted red peppers (I got mine from the grocery deli bar.)
½ cup diced sweet onion
½ cup packed chopped parsley & cilantro
½ cup mayonnaise
½ cup Greek plain yogurt
½ cup sweet pickle relish
2 tbl chopped fresh dill
1/3 cup chopped nicoise black olives (Got mine from the deli salad bar—they'd been steeped in nice olive oil and spices)
1 ½ tsp sea salt
½ tsp coarse ground pepper
1/2 lemon juice & zest
(Note~~Capers and any type of white drained beans would also be boholicious in this recipe!)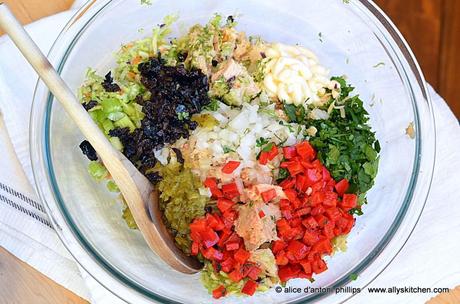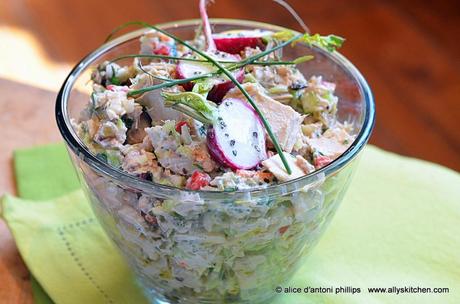 What you do:
Combine all of the ingredients in a large mixing bowl.  Gently toss and blend trying to maintain some of the integrity of the chunks of tuna.  Refrigerate about an hour before serving!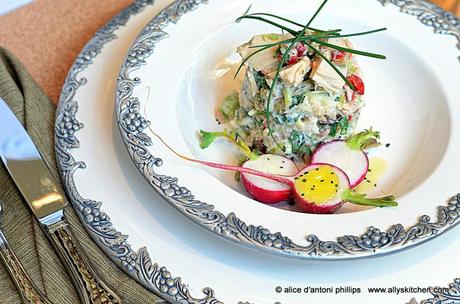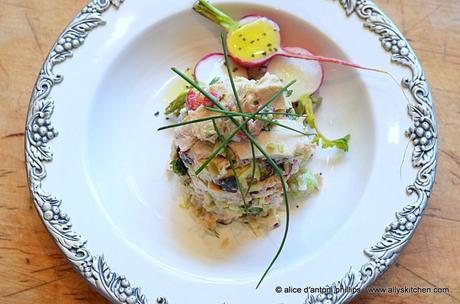 ©alice d'antoni phillips   www.allyskitchen.com