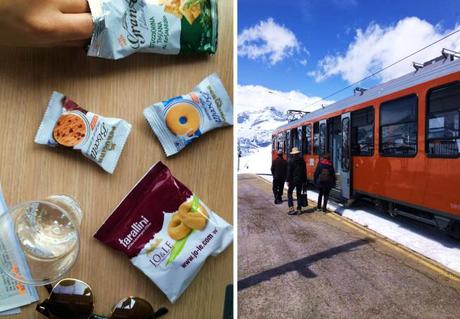 On our most recent trip abroad, Ken and I chose to buy Eurrail Passes to get from city to city, rather than fly or rent a car. The trains are a convenient and reliable way to get around Europe and see the countryside along the way!  However, we did uncover a few lessons on the trains which I thought I'd share:
In addition to purchasing your Eurrail Pass at least one month in advance, you'll want to check to see if the train routes you're planning to take require reservations. If they do, you'll want to book reservations for those rides before you leave. This way you're guaranteed a spot on that train, and you can just show up at the train station on the day of and hop on your train. Don't forget to read the Eurrail literature that comes with your pass–there's important information in there!
Not all train lines are included in your Eurrail pass. There are some private train lines (i.e. the train that brings you up to Zermatt) that require you to purchase a separate ticket (at a discounted Eurrail Pass rate) for that leg of the trip.
Trains show up at the train station as little as 5-10 minutes before it's scheduled to leave, so don't freak out if it's not there waiting for you when you arrive 30 minutes early! Just keep your eyes on the station's timetable for the platform number to appear next to your destination, and then head over to that platform to board.
Bring a cable lock to secure your luggage. On most Italian trains, we were able to store our luggage above our seats. However there were a few trains where there wasn't room to store our luggage above our seat, so we had to store it either in the front or back of our train car. Bring a cable lock to secure your luggage against thieves! We had to purchase an expensive Swiss cable lock in Zermatt after hearing that a fellow American traveler had a bag stolen on the way to Switzerland.