Lanzarote is the northernmost and easternmost among the seven Canary Islands. It emerged from violent volcanic eruptions about 15 million years ago, which led to the creation of its dramatic out-of-this-world landscapes.
Getting to and around.
The most convenient way of getting to Lanzarote is by air. Lanzarote Arrecife Airport caters to over 40 airline companies linking Lanzarote to other European destinations like Amsterdam, Vienna, Barcelona, Madrid, Dublin, Brussels, London, Prague, and Hamburg.
Beaches
Puerto Calero
Puerto Calero is located on the southwest coast of Lanzarote, only 10 kilometers away from Arrecife Airport and very near to the bustling resort of Puerto del Carmen. It is the first recreational port in Lanzarote, and today is considerably among the most modern and exclusive ports in Spain. It is home to some of Lanzarote's luxury hotels, villas, bars, and restaurants, as well as an exclusive brand name shops.
Puerto del Carmen
Just a 10-minute drive from the airport, Puerto del Carmen is the best known resort in Lanzarote. The restaurants here serve a great range of international cuisine, while those found at the harbor serve the freshest seafood caught by local fishermen. In Puerto del Carmen there is even a casino with a beautiful view of the sea and a cocktail bar at the rooftop.
Three popular beaches divide Puerto del Carmen: Playa Grande, a fine sandy beach with an attractive promenade; Playa Pocillos, the perfect relaxation retreat, and Matagorda.
Matagorda
Matagorda,as opposed to the busy Puerto del Carmen, is a quiet and relaxed resort. It was a fishing village before, but today offers wonderful scenery and fantastic walking trails. Here you will find a small commercial center lined with a good selection of shops, bars, and restaurants choose from a German bakery, Irish sports bar, or Spanish tapas bar and order your first taste of Lanzarote overlooking the sea.
Playa Blanca
The third largest tourist area in Lanzarote, Playa Blanca is the most southerly resort on the island, around a 40-minute drive from the airport. Its beaches are family-friendly and its sands are a mixture of sand and rocks. One popular beach here is Playa Flamingo, a man-made luxury beach of pure white sands, and is named after the famous hotel in the area.
Just a 10-minute walk to the east of it is Playa Dorada, another man-made beach with calm waters enclosed by a man-made cove. The most popular among all the beaches around Playa Blanca are the Papagayo coves. It is a group of smaller beaches with sheltered bays and which are separated by high cliffs. Timanfaya National Park, Salinas de (Janubio salt pads), and El Golfo Lagoon all exist shortly of Playa Blanca.
Costa Teguise
Costa Teguise is the second largest tourist area in Lanzarote located on the east, just 10- to 15-minute drive from the airport. For its beaches, Cucharas beach is flocked by windsurf enthusiasts. If you do not prefer the wind, Bastian beach is ideal for you and your family, especially if you're bringing little children. With tranquil waters and lifeguards on duty, El Jablillo beach is also a popular choice for families.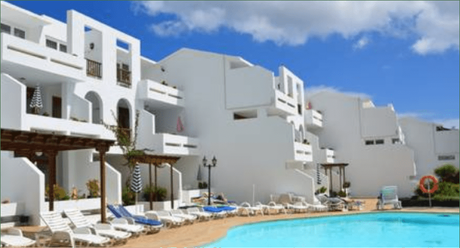 Hotel & Casino
Arrecife Gran Hotel
Arrecife Gran Hotel is a luxury beachfront hotel. It is only an 11-minute walk from Castillo de San Gabriel fortress, and 11 kilometers from Rancho Texas Lanzarote Park. You may choose to book a room with sea or city views, and these come with free Wi-Fi, flat-screen TVs, and minibars. Some rooms have separate sitting areas, while suites offer you private meal options, espresso machines and stocked minibars. A few even have whirlpool tubs with panoramic views.
The hotel has a free breakfast buffet, 2 restaurants, 2 bars and an atrium-style pool with Balinese beds. If you want to have dinner, their restaurant gives you the most romantic experience with great food, service, whilst enjoying a stunning view. Their fitness center and spa is equipped with a hydrothermal pool circuit.
Gran Casino de Lanzarote
Gran Casino de Lanzarote is worth the detour at Lanzarote's main tourist town of Puerto del Carmen. The staff here can tell whether you are a regular or not. After a hard day's work, players come here at night to spend their money turning wheels, or betting on red or black. Past the back door you will find the poker room, and a bar is available for your drinks if you prefer not to play, but just watch.There are lots of Chinese shops in Puerto del Carmen, so most patrons of this casino are Chinese.

Things to Do for a Luxury Experience.
Golf
Costa Teguise Golf Course is the first course to open in Lanzarote in 1978. Lying at the foot of an old volcano, this golf course has breathtaking views of the Atlantic Ocean.
Windsurfing
Located north of the capital Arrecife is Costa Teguise, a very popular holiday destination for windsurfers. Thanks to the constant wind providing ideal conditions for this sport, the Windsurfing World Cup championship is celebrated at the Las Cucharas Beach here every year. Two famous windsurfing schools in Costa Teguise are Windsurf Paradise and Windsurfing Club.
Diving spots
Aquasport Diving Center
Situated in Puerto del Carmen, Aquasport Diving Center is a friendly and family-run scuba diving center. It is a 5 star PADI Dive Center, so whether you're a beginner or an experienced diver, here you will surely have an unforgettable diving experience.
Playa Blanca also has great dive sites. Here you will also find well organised and professionally run diving schools, with dive leaders helping you dive safely and develop your skills while at the same time having fun.
Horse Riding
Lanzarote Caballo Equestrian Center is on the road to Yaia heading towards Playa Blanca. Choose between hour-long rides for beginners, or two-hour guided treks for those with riding experience. They also offer other activities like camel rides and off-road buggy trips.
Karting
Looking for the best Go Karting experience in Lanzarote Gran Karting Club is the perfect place to invite your friends or family for a challenge and see who can get the best lap. All laps are timed and listed on their lap time board. It is very near the airport, and free transport is available from almost every resort in Lanzarote.
Bottom line
Aside from its exquisite beauty, the mild climate, sandy beaches, and quaint vivid villages of the island make Lanzarote a popular holiday luxury destination in the Canary Islands.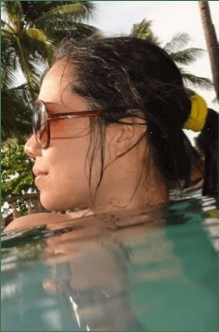 About Katarina Vancroft
Katarina Vancroft is a travel and destination blogger and content contributing editor. Her work has been featured in various online publications. As a contributor she writes about anything and everything under the Canarian sun. She wants to inspire others how we could see the world as a haven by travelling.