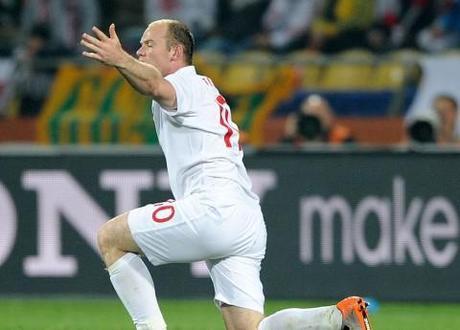 England's Wayne Rooney. Photo by Kevork Djansezian/Getty Images for Sony
The background
The European Championships kick off tonight when hosts Poland lock horns with Greece in Warsaw. While the Queen's Diamond Jubilee may have somewhat distracted England fans from the usual pre-tournament hype, excitement is now peaking. Indeed, an 100 ft copy of Rio de Janeiro's Christ the Redeemer statue featuring England manager Roy Hodgson's face has been erected on the white cliffs of Dover (a publicity stunt by bookmakers Paddy Power). However, while excitement is certainly building, few respected pundits or commentators rate England's chances of lifting the trophy. But there are some who feel Hodgson's thorough, organised approach to the game could see the Three Lions grind out some gritty results to reach at least the quarter-finals.
Here's The Periscope Post's pick of the more optimistic pre-tournament analysis on England's chances.
Hodgson's side will be ugly but effective
Writing at The Telegraph, experienced Liverpool defender Jamie Carragher, who played under Hodgson, predicted "it won't be pretty, but … Hodgson's plan might just work." Carragher insisted that Hodgson will make England hard to beat by deploying "wide-working men" like James Milner who offer as much defensively as they do going forwards. Carragher expected "solidity rather than flamboyance" and said that "when England does not have the ball, it will seem like they have four central midfielders protecting the defence. They will be the definition of the phrase 'compact'."
No-hopers tag is a blessing in disguise
England, who play their first match on Monday, "have arrived at the tournament as no-hopers, and therein appears to lie their greatest cause for optimism," adjudged Richard Williams at The Guardian Sport blog, who reminded that Greece were "rank outsiders" eight years ago but managed to beat the co-hosts, Portugal, in the final, thus replicating the achievement of Denmark, whose players were recalled from their holidays in the summer of 1992 to replace Yugoslavia, barred from participation by UN sanctions, and went on to take the trophy by defeating Germany. "These precedents are being invoked to boost the morale of England," noted Williams, who argued that the fact that "everything is stacked against England" is "one reason for a perverse kind of hope." Williams insisted that, "if they do exceed expectations it will not be with the sort of football that has fans purring with pleasure. When Greece achieved their unlikely triumph eight years ago it was through wilfully bypassing football's more graceful arts and concentrating on making themselves difficult to beat, and a similar approach appears to have been adopted by Hodgson." His team beat Norway and Belgium in their two warm-up matches by defending resolutely and scoring the only goal of the game on each occasion.
Hodgson is the master of getting the most out of decidedly ordinary players
Writing at The Week, Neil Clark said that "despite all the doom and gloom, we might just have the best chance of winning a major tournament that we've had in years. Here's why. The European Championship, unlike the World Cup, can produce surprise winners … The difference is due to the format of the competition. To win the Euros under the current format, you only have to win three games once you've qualified from your group. That means that an extremely well-organised team who are very hard to break down – but who may not necessarily have the best players – can prevail." "The big plus for England is that they've got a manager whose approach to the game is perfect for the challenge which lies ahead," enthused Clark. "As he has shown at all the clubs he has managed, Roy Hodgson is a master of getting the most out of decidedly ordinary players – which, let's be honest – describes most of the players England have at their disposal at present."
"All things considered, the 15-1 odds of England winning the Euros look pretty good value," insisted Neil Clark of The Week. "And if you still think it's all a bit too far-fetched, remember that Greece were ten times those odds when they won."
The return of Wayne Rooney for the final group game could be a massive boost
Writing at The Mirror, ex-Liverpool manager Kenny Dalglish argued that England's hopes "hinge on whether they can stay in the hunt until the last group game against Ukraine. If they do that, they have suddenly got one of the best strikers in the world back in the mix and anything can happen." "There are other things that could work in England's favour, too," said Dalglish. "Roy Hodgson is a good manager and I don't think he'll have a problem dealing with the pressure. Roy has his own philosophies and his own ways of working and they have stood him in good stead all his life. He just has to stick to them and he will be fine. Yes, he's been thrown in at the deep end with not a lot of time to prepare, but there is actually less pressure on him than there has been on a lot of other managers going into a major competition."
More on football
Joey Barton: Beyond redemption?
Balotelli: The ultimate maverick
Gary Speed's death an accident?