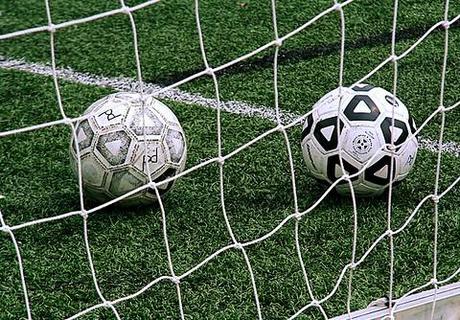 Soccer balls in the goal. Photo credit: Stevendepolo http://flic.kr/p/6Hc3VN
The background
The wait is over for football-starved sports fans. Euro 2012 has kicked off. And it's got off to a flying start in Warsaw, Poland.
In the early kick-off, hosts Poland got off to a great start when main man Robert Lewandowski scored early against Greece who were then reduced to ten men when the impossibly long-named Sokratis Papastathopoulos was sent off for two highly questionable yellow cards. At half-time, Greece looked dead and buried. But the Greeks started the second half with real vim and vigour and got a equaliser through energetic substitute Dimitrios Salpingidis. In a pulsating second half, Greece were presented with a golden opportunity to win the game when Polish goalkeeper Woljciech Szczesny brought down Salpingidis (him again) in the box. The referee sent off Szczesny and Greece's 35-year-old talisman Giorgios Karagounis stepped up to take the penalty. He saw his kick saved by Polish sub keeper Przemyslaw Tyton. The save was the first by a sub keeper in the history of the European Championships and guarantees Tyton will feature on the back pages of Poland's papers tomorrow.
All in all, the game was an action-packed opener to the eagerly anticipated Euros and made a mockery of the wisely held assumption that opening games are always lifeless draws. Here's the best of Twitter reaction to the opening game and the opening of Europe's 30-game festival of football.
In honor of @lawrencedonegan who declared Vancouver worst winter games ever after 47 seconds, E2012 is already the best tournament ever

— Matt Dickinson (@DickinsonTimes) June 8, 2012
Credit to Greece for that second half. And you won't get many people offering free credit to Greece at the moment #Greece #Euro2012

— daisyayliffe (@daisyayliffe) June 8, 2012
Greece might have been battered & bruised by Eurozone crisis but their football team has done them proud at #euro2012 Poland 1-1 Greece — John Sinnott (@JohnSinnott) June 8, 2012
Usually tournament openers leave us wanting, but that had everything. Goals, cards, controversy, a penalty and Samaras for comic relief. — FourFourTom (@FourFourTom) June 8, 2012
At the opening match for The Independent. Bloody hell – will football never sit still and behave itself?

— Patrick Barclay (@paddybarclay) June 8, 2012
The very short gaps between matches always serves to remind me why I *heart* these tournaments so much. Now, Russia & Czech – 7-7 draw, pls.

— Ian King (@twoht) June 8, 2012
More on football
Joey Barton: Beyond redemption?
Balotelli: The ultimate maverick
Gary Speed's death an accident?