The EU imports more than half of the energy it consumes and that can make it vulnerable to external energy suppliers such as Russia. To improve the situation, the European Commission presented a plan to reduce this dependence, which was discussed by Parliament's industry committee last week.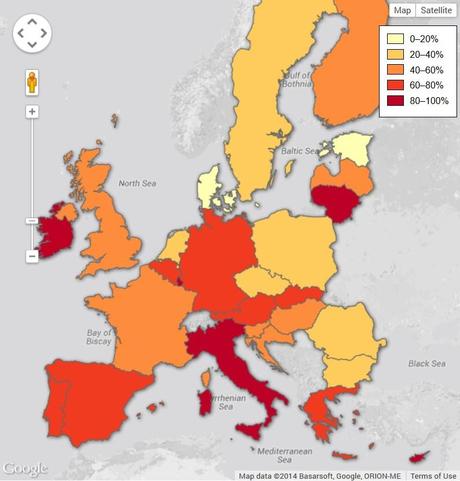 Energy dependency rates showing to what extent a country relies on imports for its energy needs. (Credit: European Parliament)
The EU imports 53% of the energy it consumes, including almost 90% of its crude oil, 66% of its natural gas and 42% of its solid fuels such as coal. In 2013 the bill for external energy amounted to about €400 billion (≈$537 billion).
SEE ALSO: 16% of Europe's Natural Gas Flows Through Ukraine
Europe is also heavily dependent on one single supplier, namely Russia, responsible for a third of oil imports, 39% of natural gas and 26% of solid fuels. Six EU countries depend on Russia as the supplier for their entire gas imports.
The EU is now seeking to reduce this dependence by diversifying energy sources and suppliers, cutting back on energy consumption, boosting energy production and cooperation between countries and investing in renewables. These initiatives and others have all been outlined in the European energy security strategy presented by the Commission in May and debated by the Parliament's industry committee on 22 July.
The committee will be keeping a close eye on the strategy. Committee chair Jerzy Buzek, a Polish member of the EPP group, said at the end of the discussion on 22 July: "Energy security will play a prominent role in the work of the committee in the months to come. This issue is of crucial importance to all of us."
Earlier we reported that the European Commission proposes to act in several key areas:
Completing the internal energy market and building missing infrastructure links is essential to quickly respond to possible supply disruptions by directing energy flows across the EU as and where needed.
Diversifying supplier countries and routes.
Strengthening emergency and solidarity mechanisms and protecting critical infrastructure.
Increasing indigenous energy production.
Improving coordination of national energy policies and speaking with one voice in external energy policy.
Further developing energy technologies.
Increasing energy efficiency.