Sometimes all you need is a little push to create something a whole lot better than what you had before.  This is exactly what happened with the Etsy store that Justine and I run.  We had an unexpected surprise that the printer we had been using for our previous items significantly raised their prices.  We didn't want to raise the prices on our customers so we decided to cut out the middle man and design and create the shirts ourselves.
Is this a lot of extra work?  Yes.  Was it worth it?  YES YES YES!
We have better, more creative designs that COST LESS than we were charging before!  Is there anything better than that?  Check out what we have in store (descriptions and link to the item below each picture)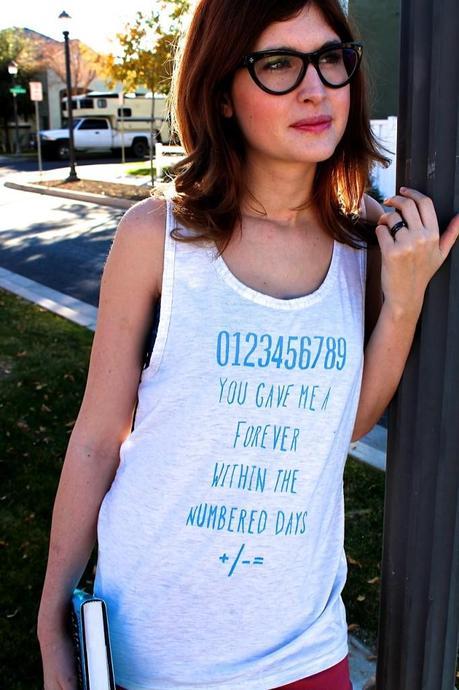 Did you know that we offer v-necks, crew tees, and tanks in every design?  This is our John Green The Fault in our Stars design on a tank with my favorite quote:
"You gave me a forever within the numbered days."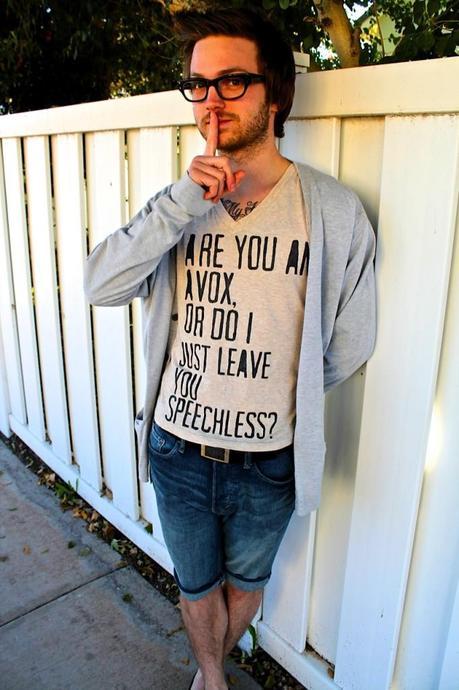 And this Chad modeling
our favorite The Hunger Games quip design
: "Are you an avox, or do I just leave you speechless?"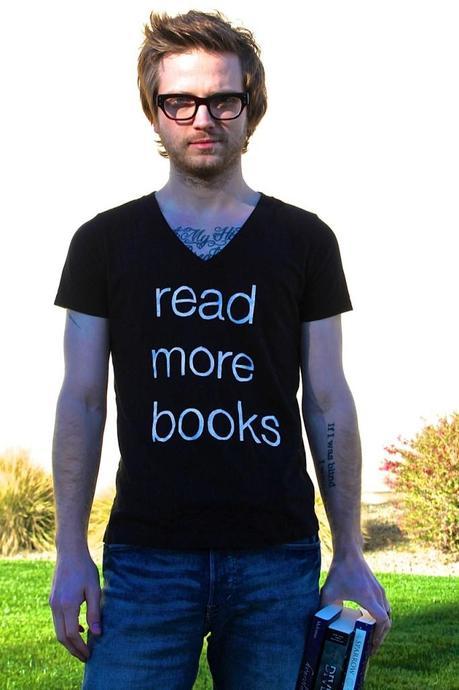 This is for any and every bookworm!  Do you love to read more books?  Show it off!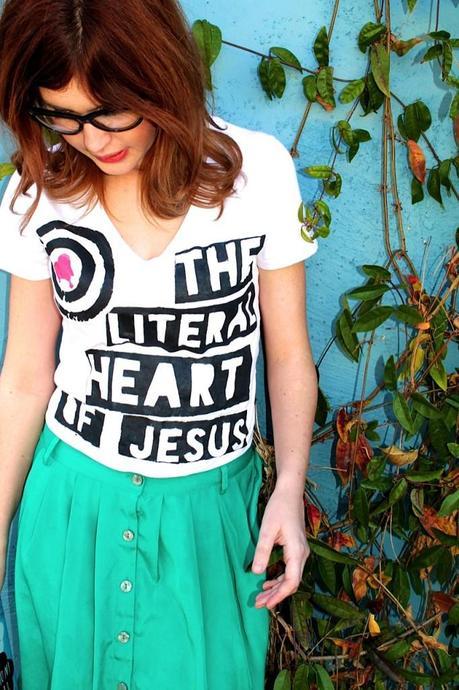 Can't get enough The Fault in our Stars?  Neither can we.  Not only does that book give you tears of joy but it also gives you tears of laughter, and the "Literal Heart of Jesus" running joke throughout the book gave the perfect comedic relief.  Buy this design here.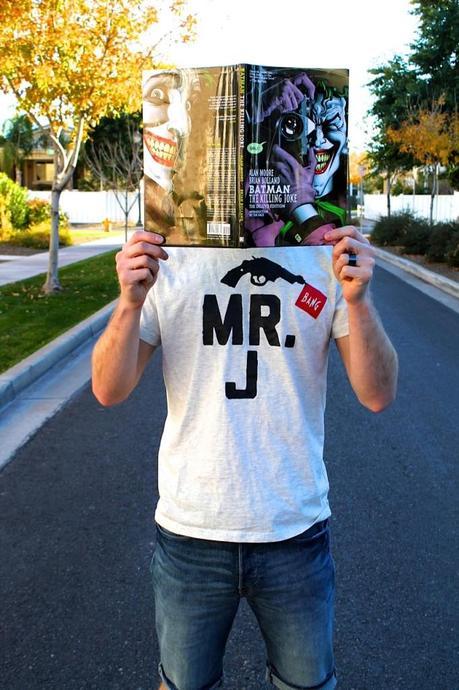 Are you an evil villain who has a dark knight for an arch nemesis?  Prove it with our Harley-Quinn-style "Mr. J" shirt.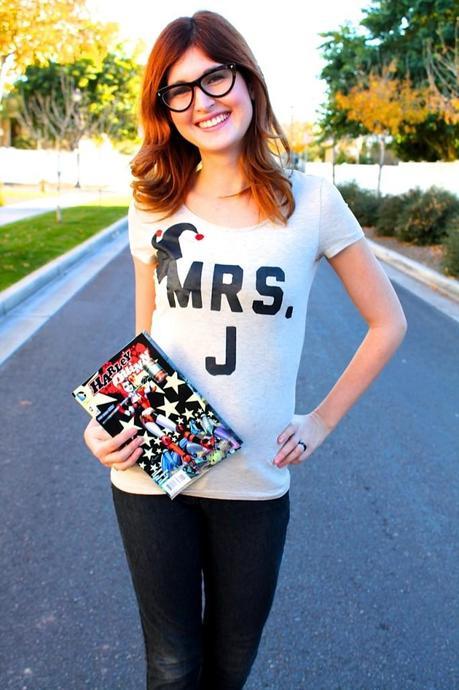 If your love for the insane romance of The Joker and Harley Quinn goes a little too far you can find solace in our "Mrs. J" tee.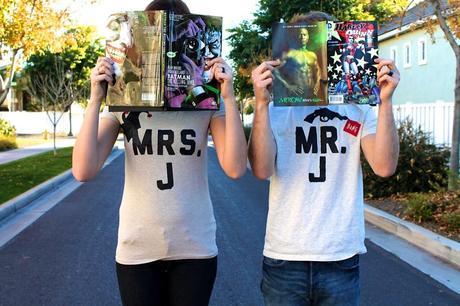 If you're looking for the perfect set of his-and-her shirts to describe the geeky love between you and your significant other we have the perfect set of "Mr. and Mrs. J" shirts here!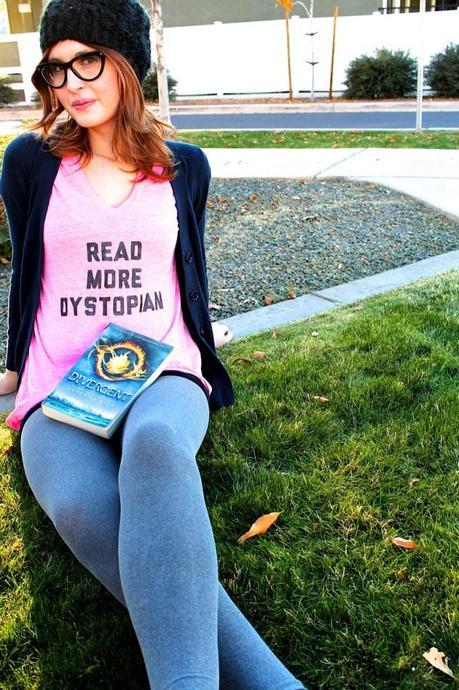 Can't get enough The Hunger Games, Divergent, Delirium, and Legend?  Show it off with our "Read More Dystopian" shirt.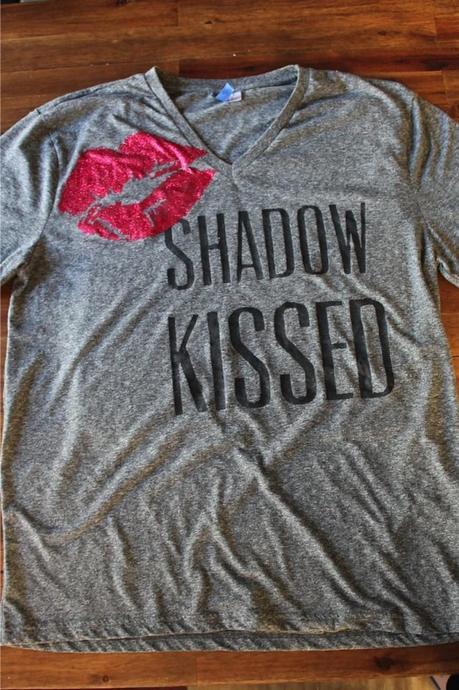 Are you a Shadow Kissed Vampire Academy fan?  Richelle Mead's fans can use this shirt to get ready for the movie that's due out on Valentine's Day. (pssst- keep your eyes peeled for a coupon code special in a few weeks to celebrate the release!)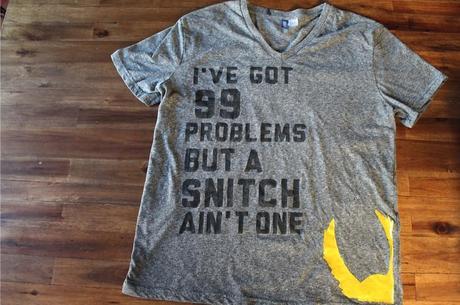 If you're like Harry Potter and you've got 99 Problems but a Snitch Ain't One than show your Quidditch skills proudly!
What do you think of our designs?!  We've worked really hard on them and we have even more in the pipeline so keep checking back, we'll be adding more.  And here's the second-best part: we can make custom orders!  Have an idea that you'd like that we don't offer?  Send us a message on Etsy and we'll get you some proofs and make your apparel dreams real

Now, remember that was just the second-best part.  What's the best part?  The coupon code, duh!  For free shipping through January 16, use NEWAPFREESHIP at checkout.
So give us some feedback in the comments on what you like AND what you'd like to see!
You May Also Enjoy:
Our First Year's 5 Most Popular Posts

Special Feature: Bookish Etsy Shop!

Grand Opening of The Appraising Pages Etsy Shop

OMM: Literary Inspired Costumes!

Story Inspired Experience: Nails

Hunger Games DVD Release Party Guide

Story-Inspired Experience: Rhiannon's Tattoos from The Hunger Games, Harry Potter, and Divergent!

Books & Bonding, Parents & Teens
Google+

Appraising Pages