(Due to the horrible, unspeakable crime of plagiarism I will only be posting links to things I like that do not belong to me, not photos with a link back to the sorce; therefore, click the word in blue.)


If I was rich......I'd wear this for Halloween.
Have I shared these before?  If I have, my apologies, I love them!
If I was a man (or wore French-cuff shirts)......I'd wear these.
This reminds me of a book I read once about a girl who lived behind the walls in her own house for years and came out as a luna moth at a party.  What was that book?
In other news, my washing machine is broken (the spinner spins no more!) and I wore this to church last night.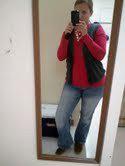 (And don't say just buy a new washer because I'm not doing that!)