With the constant changing and evolving technology, hacker and malicious crimes are also inventing newer ways to attack information networks, systems and exploit system vulnerabilities. So, to mitigate such circumstances businesses proactively needed to protect their information systems by engaging in the ethical hacking activities and employing IT professionals in such professions and designations. For this purpose, organizations are looking for the professionals skilled enough to beat the hackers in their own game. These professionals are known as ethical hackers or white hat hackers. These professionals are learned and knowledgeable professionals, skilled in tools and techniques used by hackers to identify system vulnerabilities prevent unwanted access to network, access points for penetration in the information systems. One of the popular credentials to provide you with such skills is Certified Ethical hacking - CEH certification and training  program from EC-Council.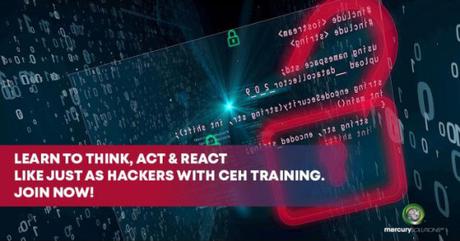 CEH - Certified Ethical Hacker Training and certification credential is an intermediate level credential being offered by the International Council of Electronic Commerce Consultants and a must have requirement for IT professionals needed to pursue careers in ethical hacking or information security domain.
The participants acquire and possess skills and knowledge on hacking practices in areas such as scanning networks, system hacking, enumeration, footprinting and reconnaissance, Trojans, worms and viruses, denial of service attacks, sniffers, social engineering, hacking web servers, wireless networks and web applications and session hijacking, SQL injection, cryptography, evading IDS, firewalls and honeypots, penetration testing and many more such domains.
Ethical hacking gaining popularity
If you have walked into the bookstore, off-lately, you would probably have noticed that the popularity and abundance of books on hacking or 'how to hack' are flourishing. Also, many companies have started defining its legalities or specifying its useful purpose in the organizations. This is exactly what EC-Council is trying to make organizations aware of with CEH. The goal is to certify practitioners in the methodology of ethical hacking. This course covers the language involved in common exploits, vulnerabilities and countermeasures.
CEHv11 Training - All about it
The training program is a five-day comprehensive CEH training program in India and is recommended with the exam at the end of the training program. Aspirants may also wish to study on their own (self-study) for the required exam however one needs to submit verification of at least two years of work experience in information security and it needs to be verified by employer.
Education may also be exempted for experience however it is approved on specific case basis. Since, technology in this field of hacking changes almost every other day hence, CEH credential holders are require 120 credits (continuing education) in each 3 year cycle with 20 credits obtained each year.
CEH training program imparts you with the knowledge and skills to run tools required to be an Ethical hacker. The certified instructors lead the class through proof of concept and finish with imparting the knowledge of how to use the tools successfully in case of a malicious attack. Upon completing this intensive 5 day class, you will have achieved the hands-on understanding and experience in Ethical Hacking tools and concepts.
Ethical Hacking Course Content
Domain 1: Security and Risk Management
Module 01: Introduction to Ethical Hacking
Module 02: Footprinting and Reconnaissance
Module 03: Scanning Networks
Module 04: Enumeration
Module 05: Vulnerability Analysis
Module 06: System Hacking
Module 07: Malware Threats
Module 08: Sniffing
Module 09: Social Engineering
Module 10: Denial-of-Service
Module 11: Session Hijacking
Module 12: Evading IDS, Firewalls, and Honeypots
Module 13: Hacking Web Servers
Module 14: Hacking Web Applications
Module 15: SQL Injection
Module 16: Hacking Wireless Networks
Module 17: Hacking Mobile Platforms
Module 18: IoT Hacking
Module 19: Cloud Computing
Module 20: Cryptography
Mercury Solutions Limited offers vendor recognized EC-Council Training and Certification courses. We are known to provide best CEHv11 certification program, CSCU, CHFI and other information security training courses. We are the leading provider of world-class IT training and certification programs, like EC-Council Certification training, CISSP certification training, CSCU training, CCNP security certification training and many more classroom training programs.