Emil Rudolf Weiss (1875-1942) was one of those multi-talented people whose very versatility has been a hindrance to their lasting fame. He's most remembered now as a typographer - a designer both of books and of typefaces - and this aspect of his work is to be celebrated in a lavish book by Gerald Cinamon to be published by the Incline Press. Weiss was a poet, a designer of wallpapers and fabrics and furniture and stained glass and ceramics and goodness knows what else, as well as a painter and a printmaker. It's in that last capacity that I want to write about him, as I have just come into possession of one, and I suspect two, of his etchings.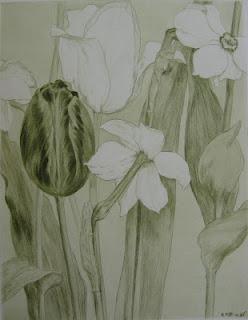 Emil Rudolf Weiss, Ein Paar Blumen
Etching, 1897
The first etching, Ein Paar Blumen, is definitely by Emil Rudolf Weiss. It is signed with his initials and monogram in the plate, and it is in the Jugendstil (German Art Nouveau) style of which he was one of the chief proponents. This very strikingly composed color etching was published in 1897 in the fourth album issued by the Karlsruher Radirvereins (the Karlsruhe Etching Club), and also in the Leipzig art revue Zeitschrift für Bildende Kunst, which is the source of my print. The artist is credited by the Zeitschrift as R. Weiss.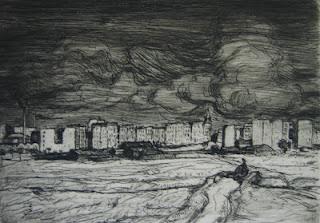 F. [E.?] R. Weiss, Stadt
Etching, 1898
My second etching, Stadt was published in the Zeitschrift für Bildende Kunst the following year, 1898, and is credited to F. R. Weiss, Karlsruhe. My belief is that the editor of the revue, Prof. Dr. Carl von Lützow, simply didn't know Weiss's first initial, and mistakenly corrected the R. Weiss of 1897 to the F. R. Weiss of 1898. There can hardly have been two etchers with almost the same name working in Karlsruhe at the same time, both supplying etchings to the same publication. Additionally, I can find no record at all of an etcher called F. R. Weiss - and the etching published under that name is so confident and powerful that I can't believe its author would not be recorded. The only thing that gives me pause is that the style of this second etching, a distant view of the city of Karlsruhe, is so different from the first. It's poised on a cusp between Impressionism and Expressionism, with a bit more of the latter in the way the brooding cityscape, smoke-swirled sky, and the choppy waters of the Rhine in the foreground are infused with a wild inner turmoil. Interestingly while the revue gives this print the sober title Stadt, a note records that the artist referred to it as Erlebnisse, which means Experiences. I'd be very grateful if anyone with more detailed knowledge of the art of Emil Rudolf Weiss could give me a view as to whether I am correct in attributing this second etching to him.