If i am being completely honest with everyone, I have never tried any products from Estee Lauder.  I have thought about purchasing a few products in the past and sampling  from her skincare lines.  So when I was very kindly given this gift set, I was extremely pleased, even before I had tried and tested what was inside.
This is the packaging that the deep ruby red vanity case comes in, which encloses 11 deluxe items.

I also recieved an Estee Lauder "weekend" bag alongside this gift set.

The products inside : -
Gentle eye make up remover 100ml.
Sumptuous Bold volume lifting mascara 2.8ml
Orchid Passion 33 shimmer gloss
Electric Ginger 03 shimmer gloss
Candy 16 pure color long lasting shimmer lipstick
Exotic Orchid 65 pure color long lasting shimmer lipstick
Barely Nude 46 pure color long lasting creme lipstick
Arisys eye pencil 02 softsmudge brown
Artists eye pencil 01 softsmudge black
Deluxe all-over face compact - Bronze goddess 01, pink kiss 02, radiant peach 75 and 11 nude rose
Deluxe eyeshadow compact - 18 colours.
This set also includes an Estee Lauder look book, designed to give two looks using some of the products included.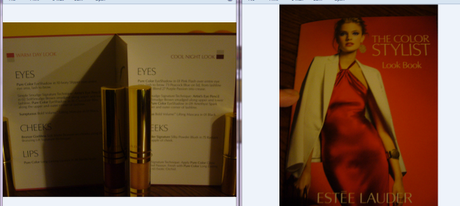 Swatches of the two eyeliners are below.  As you can tell, the brown eyeliner is quite similar to the black one.  I like how both swatched mainly because they went on smoothly and only a light amount of pressure is needed to apply them.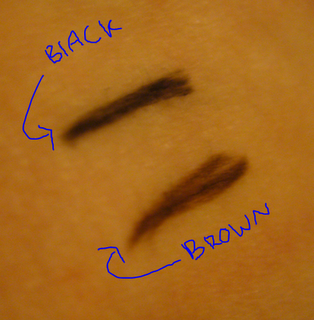 I have not yet tested out the mascara but from what I have seen so far, as in brush size, I feel like I will warm to this product too.  It is not all one width with it getting progressively smaller as it reaches the tip.

I have also never been one for bronzer or blush as I seem to find it somewhat difficult to purchase a shade that always suits me.  I am really quite pale faced and most blush/bronze "show up" a lot.  Don't get me wrong, I don't look like a clown, but, so I don't get half the way there, I sometimes tend to apply it underneath my powder.  This gives my face the more
natural
glow I am looking for.  So far from swatching these four colours on my fingertips, I am a fan of each color and could work with them, hopefully above my powder now!

I'm always on the look out for new eyeshadows, whether it be getting a good deal on Ebay, or purchasing in store.  Eyeshadows also seem to be the thing that I feel I should buy more of, although it's the last thing I need more of! I love the array of colours, finish and sizes.  After purchasing a 120 colours palette I almost stopped looking...

Both lipglosses are very moisturising although I find they could be slightly sticky.  I can look past this however, as I love the colours.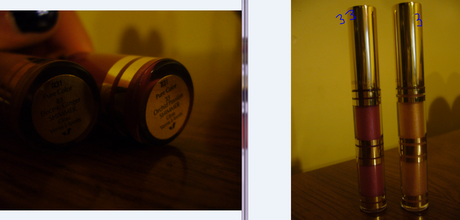 When I wear lipsticks, I always reach for a nude colour, usually pinks.  I feel like a darker or redder color is overpowering and would have to be balanced out.  With these three, I could definitely get used to them and to create a different look, just add gloss.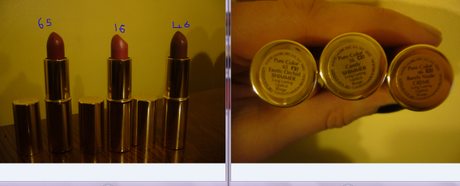 Exotic orchid 65 : Red with a hint of pink with shimmers.  A more opaque color would need two coats.
Candy 16 : Pink with a hint of red with shimmers.  A more opaque color would need two coats.  I feel like this is a similar color to Exotic Orchid but slightly more pink.
Barely Nude 46 : Brown nude with no shimmers. Could be worn with one coat but some may want two coats to make it more opaque.  This color feels more creamy on the lips.
All three have a gorgeous smell. Fruity, but not so much to make you feel the product is cheap.
Swatches on back of hand :-

Will probably be creating some looks with this eyeshadow palette complimenting them with blush/bronze and a lip product, also from this set. I hope to do some reviews on a few of these items, also.