Date: May 9, 2016
Posted by Litcom Team
Category: IT Strategy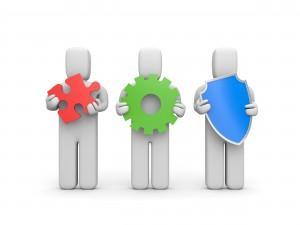 Today's organizations rely on information technology (IT) as a crucial part of their overall enterprise strategy. As such, policies and practices that extend to IT are an integral part of this strategy- that is, IT should be governed by practices that help ensure:
An organization's IT resources are utilized responsibly;

Risks are managed appropriately and

Information and related technology support and align with business objectives.
IT governance is the method by which decisions are made around IT investments. Establishing IT governance in an organization is an important way of ensuring that IT policies and procedures are adhered to.  Below are 8 Steps to establishing IT governance in an organization.
1. Outline your organization's course on IT governance.
In this first step, the objective of the organization is to identify and describe the strategic and tactical IT governance roles and responsibilities. In this step, it is important to:
Make certain that the organization possesses documented roles and responsibilities of the board, the executives, and the IT strategy committee;

Distinguish and denote how priorities are set, how resources are allocated, and by whom, and how projects are tracked and

Incorporate senior managers from both the IT and business divisions (these individuals serve as the key supporters to distribute and foster the adoption of IT governance procedures and policies within their divisions.)
2. Establish an IT governance implementation plan.
The organization needs an effective action plan that complements specific circumstances with needs. It is crucial for the Board to take ownership of IT governance and ascertain the direction that managers should follow. Such decisions are effectively formulated by ensuring that the Board operates with IT governance in mind:
Make certain that IT issues, plans, and wins are on the Board's agenda;

Assist managers to align IT initiatives with tangible business needs;

Emphasize the potential impact on the business of IT-related risks;

Require that IT performance be measured and reported to the Board;

Establish an IT strategy committee that is accountable for conveying IT issues between the Board and mangers, and

Insist that the organization use a common methodology to employing a management framework for IT governance.
3. Establish an IT governance road map and plan for long-term strategies.
IT governance should be coordinated with the more broad and strategic enterprise governance objectives. An IT governance methodology assists board and management to comprehend the suggestions and key ramifications of IT and supports in making certain that the organization can maintain its operations and execute the strategies needed to broaden its operations for future growth.
4. Aim for short-term IT governance objectives and wins.
After the organization has distinguished and established a strategic IT governance road map, identify short-term IT governance issues that can operate as quick wins to get the organization jump-started on its IT governance policy and regulation requirement. These quick wins will afford a good sign of the potential outcomes and difficulties associated with executing sound IT governance; they also help to reveal corporate barriers that need to be addressed before long-term strategies can be implemented. Such wins will also help to provide evidence that IT governance procedures and policies can aid and protect the organization, as well as further establish the credibility for implementing IT governance policies.
5. Recognize and administer IT-related risks and opportunities.
Research what it is that users require and figure out how such needs influence ways in which IT is used within the organization. In doing so, one may discover IT-related risks and opportunities. One suggestion for identifying corporate IT risks or opportunities is to survey or conduct an assessment of users. They can be one of the best sources of input for pinpointing security gaps or improper use of IT.
6. Re-evaluate IT governance policies on a consistent basis.
Once an organization has constructed a practical set of IT governance mechanisms, governance can stay in place until a shift in strategic direction or a business opportunity re-evaluates what the organization perceives as desirable use of IT resources. However, opportunities sometimes arise that are not fully (or partially) addressed in the IT governance policies and procedures. When this situation occurs, the IT governance policies must be revisited to address these situations.
7. Enhance the transparency of IT governance.
One of the most important factors that can influence the success of IT governance policy and procedures is the number of employees who can accurately describe the organization's IT governance policies. IT executives and their personnel must engage in proactive talks with business people and IT users to better comprehend corporate needs. One suggestion to promote IT governance in an organization is to enhance the public relations efforts of the IT department. For example, consider generating and distributing an annual report from the IT department that explains and shares the organization's IT governance and future strategic goals and plans.
8. Institute exceptions to processes in the governance processes.
Every so often business circumstances or opportunities take place that are not legislated or addressed by the organization's IT governance policies. Such events emerge because IT governance may deny specific actions, or IT governance approaches may be out of date. Create a procedure for the organization to follow if the need emerges to upgrade or to provide an exception to the IT governance policies that are in place.
IT governance exists to help organization leaders in their obligation to make IT effective in supporting the company's objectives and mission. IT governance assists organization leaders to bring issues to light and understanding among staff and personnel. Such governance likewise aides to give direction and tools to board of directors, executive managers, and CIOs to guarantee that IT meets and exceeds the organization's expectations.

---
The Litcom Approach
Litcom's professional team is equipped to provide comprehensive and efficient solutions for improving IT governance. For further information, please contact us at: [email protected].
How can an IT assessment benefit your organization? An IT assessment provides your organization perspective on the effectiveness of its systems, staff, budget, vendors, procedures and company policies. For more information, download our 

free

 guide or contact us at 

[email protected]

. Download Guide
News Categories
Business Analysis
Data Visualization
Digital Strategy
Enterprise Security
ERP Optimization
Information Security Health Check
Information Security Program Development
IT Assessment
IT Management
IT Staff Augmentation
IT Strategy
Merger & Acquisition Due Diligence
PCI Compliance
Post Merger Integration
Procurement Process Improvement
Project Management
Threat Risk Assessment & Penetration Testing
Vendor Selection
Archives
May 2016
April 2016
March 2016
February 2016
January 2016
December 2015
November 2015
October 2015
September 2015
August 2015
July 2015
June 2015
May 2015
April 2015
March 2015
February 2015
January 2015
December 2014
November 2014
October 2014
August 2014
July 2014
June 2014
May 2014
March 2014
February 2014
October 2013
June 2013
May 2013
April 2013
March 2013
February 2013
January 2013
December 2012
November 2012
October 2012
September 2012
August 2012
July 2012
June 2012
April 2012
March 2012
June 2011
May 2011
Stay Connected
265 Rimrock Rd., Suite 202
Toronto, Ontario M3J 3C6
phone: 905 763 8900
fax: 905 763 8233
email: [email protected]
Recent Posts
Information Security Health Check
Why is conducting an IT business assessment so important?
Digital Customer Experience—Big Trends and Best Practices for 2016 (SlideShare)
Reference Links
IT Assessments
IT Assessment
Assessing the Value of IT in your Organization
How can your organization benefit from an IT assessment?
Conducting an IT Assessment