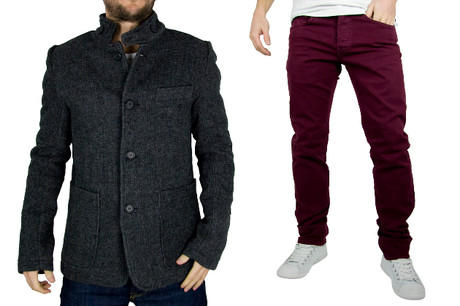 It may still be freezing in the Northern Hemisphere but we're being optimistic. Spring is just around the corner for you guys. Honest. If you're ready to knock it on the head with those winter warmers and want to start the spring season with a bang, it's probably time to spring clean your closet.
For a bit of personal research from the comfort and convenience of your own laptop or phone, you'll be able to find the hottest trends for men on some of the best fashion sites.  The online fashion world is usually a few weeks ahead of your local high street when it comes to product placement or seasonal campaigns so it's great to get inspiration from the web.
Here we've selected some of the top trending looks for this season with the help of StandOut.net.
Blazers – Blazers are such a versatile choice of jacket. Not only do they keep you warm for those nippier days and nights but they're flexible in look and style. Can be dressed down with scruffy jeans and Converse kicks or can be styled up with tailored trousers and a smart bow tie. This year's blazers can be found in a range of colours, styles and fabrics. Look out for interesting textures, a lot of chambray-esque designs and some super slick mod inspired pieces.
Denim – Denim will always be a wardrobe staple for everyone but with spring looming in the distance, there's much more of it come. Look out for vintage look jeans, double denim clashes and a lot of focus on chambray as a denim alternative.
Camo – The army print trend has been hot property since last year and in SS13, prepare to get the army print look in much more subtle ways. Find subtle detailing such as print pocket detail, army print trims and designs which feature traditional army print colours.
Bright Colours – Whilst the ladies are embracing monochrome, there's a lot of color waiting to burst out for SS13. One leading color is blue and this shade is set to be huge for the summer, ranging from Curaçao blue and metallics to petrol blue across all garments.
Printed Shirts – Prints are a big theme in both menswear and womenswear and in SS13, we see printed shirts being a hit for men's fashion. Look out for chambray, florals, polka dots, crosshatch, retro patterns and bright, artistic prints. These are great for mixing with a smart/casual blazer and they look good with both denim and chino trousers. Take them into the summer by teaming with shorts and wear loosely unbuttoned over a plain t-shirt]
Tailored Shorts – This summer, it's time to swap chino shorts for something a little more tailored. Tailored shorts and short suits, which have a very Parisian look and feel to them, are set to popular this year.
Bomber Jackets – Whether it's a vintage bomber or a mod inspired bomber, these jackets are making a stylish comeback into men's fashion.
Check it out
Guest Post Bio: Charles Hammerman is a freelance fashion writer based in the UK, who has a passion for writing about designer clothing and men's style.