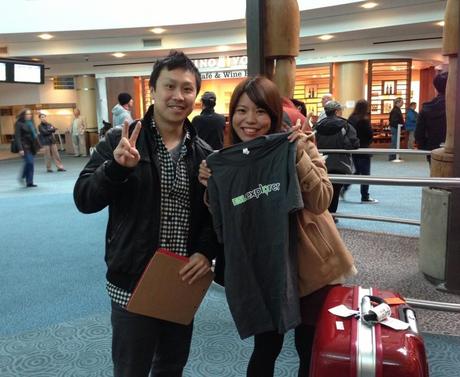 Today was a day of many firsts for our newest student, Aya Yonemura.  Aya came to us from Nagoya, Japan and today was the first time she flew in an airplane.  She had never traveled outside of Japan before today and it was the first time coming to an English speaking country.  Her first meal in Vancouver was a Canadian bacon cheese burger.  What a great Canadian intro, eh?!
Since booking her course using ESL Explorer, we were very excited to finally meet Aya in person.  So, after traveling more than 7,770 kms to get to Vancouver, how did she feel about her day of firsts? She wrote about it immediately after we dropped her off at her homestay to say:
"Thanks a lot for Fred and Miki!! I beg your kindness. My host family is very kindness and the house is wonderful!  I think I want to learn very hard and want to be able to speak better English. I wish to talk a lot of things with my host family and my friends!"
Aya, it is our pleasure!  We hope you have a great study experience.  We couldn't be happier with Aya's result and we are excited to uphold this high service standard for our future ESL Explorer's!