It's not everyday you get to use an app and social media as an integral part of a social event, but this is exactly what EskaQuest is aiming to do in Toronto this coming July! A great opportunity for the whole family, this digital scavenger hunt will have Torontonians searching the city for ESKA-themed tiles with QR codes that connect to interactive smartphone challenges. Each completed challenge earns you points that can help you win one of 10 iPad minis!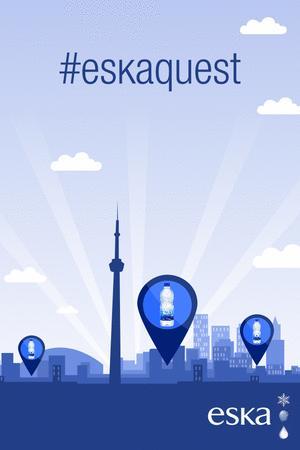 "Our smartphones often close us off from the world around us," says Jim Delsnyder, President and CEO of Eaux Vives Water  Inc. "Eskaquest marries the online and offline world to encourage people to get outside, take in your surroundings, and really see our amazing city." This isn't the first time we've seen a non-tech company cite smartphones as a limiting distraction – remember FOCUS, the unexpected fashion line by Trident Gum? But the difference is, where Trident shut our phones out, ESKA is embracing and changing the distraction to make it an integral part of the experience.
There are two ways to play EskaQuest: Solo and Clues. Solo participants can compete throughout July by viewing the map at eskaquest.com, which shows the area where tiles are hidden. In the Clues competition, clues about the locations will be revealed throughout July on ESKA Water's social media feeds: Facebook, Twitter (@ESKA_Water) and Instagram (@ESKAWater). Both ways to play last for all of July and use the app for challenges, which is free for download on eskaquest.com and on the Apple and Android app stores. What a great way to integrate technology, activity and summer!