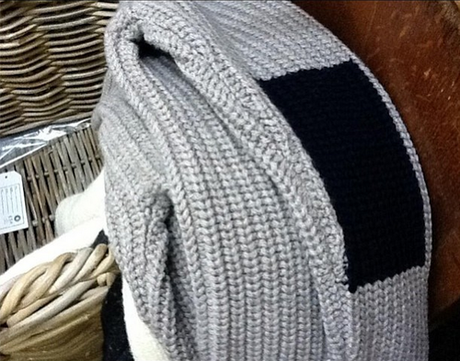 For those who can't get enough knitwear, Esk Cashmere is worth keeping an eye on. The brand is a new ready-to-wear label by the knitwear factory Esk Valley Knitwear, which is located in the southwest of Scotland. Having started in the 1960s, the family-owned business has been making knitwear for a number of high-end British brands for years. Now, they've gone into the ready-to-wear business for themselves.
Esk Cashmere's line is split into two parts. There's the more contemporary seasonal collection and a permanent classical line. The latter is fairly straightforward — lots of basic crewnecks, v-necks, cardigans, and sweater vests made to the highest standards possible. Many are constructed from four-ply cashmere yarns or higher and seamlessly knitted on Shima Seiki machines. Being fully fashioned, the panels are knitted to shape (like a sock) rather than cut from larger pieces of cloth and then sewn together (like you would do for a shirt). The pieces are then skillfully assembled by hand-linking each stitch, point-by-point. This not only results in a smoother finish, but it's also a slower, more labor intensive process that's typically reserved for higher-end garments.
The contemporary collection is made to the same standards, but the designs are dramatically different. Ex-Joseph designer Lorraine Acornley works to make the sweaters look modern and distinctive, but also subtle. This fisherman knit, for example, has contrasting, intarsia, color block patches at the forearms, while this 10-ply cashmere sweater is made with a chunky collar and button detail. For something more discrete, check out these Shetland crewnecks. They've been knitted to be double-faced, so that a soft lambswool faces the inside, while the more traditional Shetland wool faces out.
Prices here are expensive, but the line feels very promising. You can keep up with the brand by following them through their webstore, or checking out online stockists such as Trunk Clothiers and Matches. Esk Valley Knitwear has also done some work for Monocle, and some of their Esk Cashmere pieces are on sale at Kafka and Volls (albeit, in very, very limited quantities and styles). 
(Photos via Esk Cashmere and Make Works)