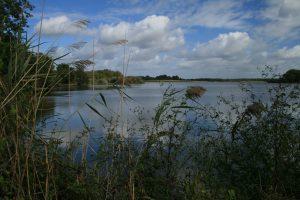 Typical scenery of La Brenne
We were in La Brenne National Parc, in the Indres Department of Central France, named after the river Indre that flows through the region. Seeking a taste of rural France without the crowds we had hired a gite in the village of Le Pont Chretien-Chabanet, just outside of the Parc.
The Indres Department is divided into four natural regions; the southwestern part contains the marshy land is known as La Brenne- the land of a thousand lakes- covering over 166,000 hectares and containing over 2,000 lakes, each one created by the monks who fished and farmed the area in the Middle Ages. The largest lake is the 160-hectare Mer Rouge (Red Sea), and the BelleBouche lake has its own beach and a water sports center for those who prefer more active pursuits.
La Brenne is a paradise for bird watchers and nature lovers. Black-necked grebes, purple herons, Eurasian bitterns, eagles and egrets can all be spotted. It boasts more than 1,200 species of plants plus 2,300 animal species, including pine marten, coypu, European pond turtle and dragonflies.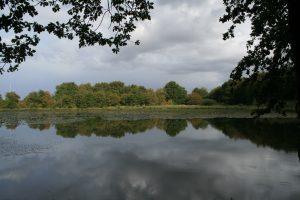 Reflections in one of the many lakes
The lakes of La Brenne are connected by quiet roads and grassy tracks, and along with the forests and shrubland, it reminded me very much of the Brecks area of Norfolk, only on a much larger scale. Parts of La Brenne all look very similar so you will need to take a map to avoid becoming hopelessly lost in the network of tracks.
We sheltered from a sudden shower in a large wooden hide, watching red cattle graze and spotting little and great egrets. When the sun came out it was surprisingly warm, and as we walked we could see the grass move as small lizards scuttled away at our approach.
A leisurely lunch of French bread and soft cheese was eaten between two lakes, lazily watching a large bird we later identified at a purple heron. We could have easily stayed there for hours, watching the birds and dozing in the sunshine, but we still had a distance to walk, so reluctantly we heaved ourselves up and walked on- along more delightfully easy grassy tracks and past hamlets with a traditional French feel.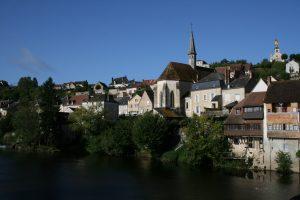 Argenton-sur-Creuse, near La Brenne
th
There is some debate over the coypu as they have no natural predators here and can cause destruction of the environment, but to me they were cute and furry and I spent several fun minutes watching their antics.
Reaching the visitor center in Le Bouchet we tried to translate the information boards and books for sale, nearly all in French. La Brenne Heritage Museum (Ecomusee de la Brenne), situated in Chateau Naillac in le Blanc, teaches the history of the region from pre-historic times. Saint-Michel-en-Brenne also has an information centre; the Maison de la Nature. If you want to stay in La Brenne, there is a good choice of self-catering accommodation, hotels and camp sites.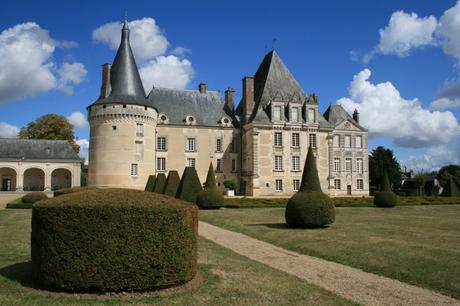 The Chateau at Azay-le-Ferron in the heart of La Brenne National Parc
Returning to Rosnay, we were surprised to discover that we had covered over sixteen miles, and attributed this to the gentle terrain and the fact that there are so many things to see that it took our mind off the walking.
Although well known in France, La Brenne receives very few English tourists but is such a special area that I feel that it is only a matter of time before it is 'found'. Make sure you visit quickly while it is still unspoilt!
Visit https://www.france-voyage.com/tourism/brenne-regional-nature-park-1566.htm for more information on La Brenne National Parc