Some weeks back, a friend invited me over for lunch.  It was a scrumptious feast I must say.  The dessert served was refreshing especially on a hot day.  It was also my first time tasting Es Teler.
I have never known what is Es Teler until that day.  It is like our ice kacang but the ingredient used is light and yet delicious.  
So today, I am replicating this for my family.  I should have added in some coloured tapioca pieces to heighten up the colours. 
I am sure this dessert will be a welcome especially during this humid season.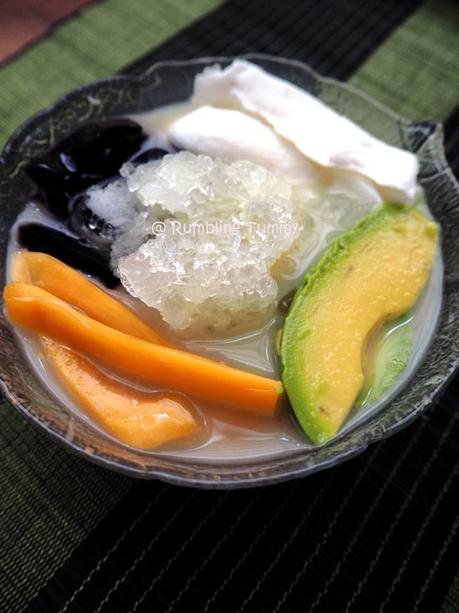 What you need:
AvocadoCoconut meat, keep the waterGrass jellyJackfruitcondensed milka pinch of saltCrushed icePandan leaves
For the coloured tapioca ball (optional)
200g Tapioca flour
½ cup boiling water
food colouring
Method:
Cut avocado in slices.
Bring to boil the coconut water and pandan leaves.  Turn off heat.
Sweeten with condense milk and a pinch of salt.  Remove and set aside to cool.
In a bowl, arrange fruits and coloured dough and pour in sweetened coconut water.
Add in crushed ice and drizzle condensed milk
Serve cold.
If you have enjoyed this post by Rumbling Tummy, be sure to follow this Rumbling Tummy on Facebook, Instagram, Pinterest, Twitter and Google+.