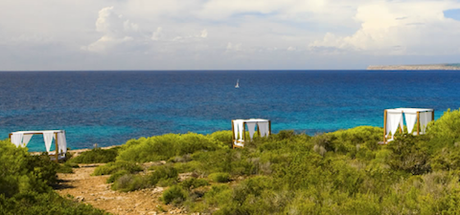 It's raining outside, cold inside and there might be more snow. What could be better than closing your eyes and thinking of summer. Summer in Formentera in fact.
The island where everyone is so laid back most don't bother with clothes and you feel a million miles away from platform 3 at Liverpool Street Station.
Es Ram is nestled in a pine grove and is a wash of white and cream punctuated by brightly coloured gardens and the piercing blue sea. The resort is made up of 'living spaces'; an 8 bedroom main house, a 2 bedroom and shared bathroom villa, and three double occupancy independent villas.
Potter around, borrow a Fiat Panda for some tootling, take a déshabillé dip from the private beach, relax on double loungers scattered among the boulders and saunter over to the main house for some al fresco Italian seafood under the stars.
Daydream here, rates from around £800 p/p per week including breakfast.