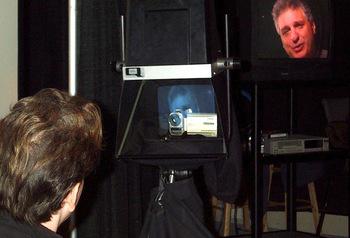 Documentarian Errol Morris burst onto the scene in 1978 with "Gates of Heaven" and crafted a hypnotic and engaging documentary the likes of which had never been seen before. Since then, he has crafted the same kind of mesmerizing films, documenting intelligent oddballs. Through the use of his Interrotron, a device he invented which allows his subject to keep eye contact with both himself and the camera simultaneously. This device has resulted in films that are immediate and grabbing than most any other documentaries ever filmed. In 2000, he made a TV series lasting for two seasons and 17 episodes, with guests ranging from a man with an obsessive quest to see a giant squid to a man who lives his live entirely in front of the camera. Each episode is interesting in its own way as Morris stares down each person and uncovers the reasons for their peculiarities. Here is a short synopsis of each episode:
Season 1 (2000)
Mr. Debt The inaugural episode showcases a New York debt attorney who seems like he has made it his cause to take on and destroy the credit card company while trying to get consumers back on their feet. He explains how the credit system in America works and how people are systematically forced to stay in debt. He also explains how his business works and how he is able to fight the creditors, while dodging questions from Morris that some may consider him a huckster.
Eyeball to Eyeball A zoologist discusses his lifelong passion/obsession with coming face to face with a Giant Squid, something which is seemingly impossible to do. In the process of describing this hopeless quest, we hear about his career, his contact with a washed up dead Giant Squid, the nature of the beast, and his many futile attempts to make contact with the creature
Stairway to Heaven Autistic Temple Grandin, whose life story was recently told in an HBO television movie, tells how she gradually realized how to use her condition to her benefit and how her style of thinking allowed her to design a humane slaughterhouse, whose model is now used in 1/3 of all beef production in the United States. This is a fascinating segment, as Grandin takes us into her mind, explains how it works, and tells why she chose to use particular design ideas on her intricate slaughterhouses.
The Killer Inside Me In high school, Sondra London dated a charming man who ended up being a serial killer. Years later she met up with Gera

rd John Schaefer and decided to help him tell his story in book form. After a falling out with him, she moved on to Danny Rolling, another serial killer whom she likewise wrote a book with and had a relationship. This fascinatingly strange episode tries to get into London's mind and determine what draws

her to serial killers.
 I Dismember Mama Saul Kent discusses his fear of death at how he became involved in cryonics during one of its early stages when it was simply known as freezing people. While discussing how the process works and how we will have the technology to bring frozen people back to life, he tells the story of how his mother died and wished to be frozen. Because her body was so worn down, he severed her head and then froze and hid it when he became the subject of a murder investigation and media frenzy.The Stalker When Post Office supervisor Bill Kinsley was forced to fire carrier Thomas McIlvane for threatening a superior, Kinsley became the target of McIlvane's threats. After taking means to protect himself, his family, and his work, the law told him there was nothing they could do. Then, one day McIlvane showed up at the post office with a sawed off shotgun and killed several of his former coworkers before shooting himself. Kinsley tells the story of the nightmarish experience while stating how his life was ruined due to scapegoating.
The Parrot One night a man broke into a Sonoma, California woman's house and suffocated her, leaving her parrot as the only witness. People involved with the case offer their takes on the guilt of two suspects and a pet store owner recounts how the bird's cries, which were declared inadmissible by the judge, implicate the man who was sent free and clear of the name of the man serving life for the murder.
Smile in a Jar Gretchen Worden, the directo

r of the 

Mütter Museum in Philadelphia, takes us on a virtual tour of the facility which houses human anomalies ranging from giants to dwarves to Siamese twins to horns and even includes famous people's body parts.
In the Kingdom of the Unabomber Psychologist Gary Greenberg desperately wanted to jump start his career and get published, and saw the best way of doing this was by striking up a correspondence with Ted Kaczynski. Greenberg tells about his writings to the Unabomber and how he became extremely close to landing the coveted first interview.
The Little Gray Man A CIA agent and master of disguise discusses the tricks of his trade, while discussing his early forays in infiltration, a well as missions in Laos and Moscow.
You're Soaking In It A woman's stepson killed himself and she was left to clean up the mess. Grief stricken, she was also inspired to start her own crime scene cleaning business, which she discusses here.
Season 2 (2001)
Mr. Personality  Forensic psychologist Michael Stone discusses his system for ranking evil and talks about his fascination with serial killers and mass murderers.
The Only Truth A high profile defense attorney whose clients include gangster rappers and the mafia discusses his career, his various defense strategies, and the time he was indicted for a felony.
Harvesting Me As a child Josh Harris felt lost in his big family and spent hours in front of the television. As an adult, he decided to install cameras and microphones in his apartment so his every waking moment could be recorded, an internet venture that made him millions. Harris discusses what makes him live his life in public and the several downfalls that come with the highly intrusive territory.
One in a Million Trillion Highly intelligent and nerdy Rick Rosner explains why he chose to redo his senior year of high school over and over again. He also discusses his appearance on the first episode of the game show "Who Wants to Be a Millionaire?" as well as his appearance on another show where he was eliminated on what he believed to be a poorly worded question.
Leaving the Earth In 1989 on a flight from Denver to Chicago, pilot and pilot trainer Denny Fitch was a passenger when there was an explosion on the plane and all hydraulic power was lost, an accident that had no precedent and almost guaranteed death. Fitch describes what happened as he assisted in the cockpit, the mechanics of the plane, and how he and three other pilots were able to save a majority of people on the plane.
The Smartest Man in the World Chris Langan has worked as a construction worker and now works as a bouncer. He also has one of the highest recorded IQs in the world. Here Chris tells of his oversized head while he divulges his theories on the universe and master plans for the human race.