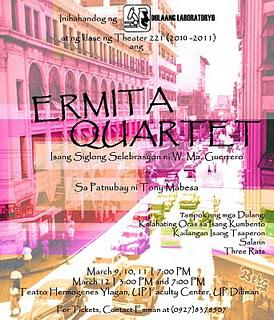 What do rats, nuns, a convict and a chaperone have in common?
All of them belong to a wide array of characters borne out of the literary and theatrical genius of a man hailing from Ermita, Wilfrido Ma. Guerrero, who would've been a hundred years old this year. And all of them will come to life on stage this March.
UP Dulaang Laboratoryo presents "Ermita Quartet: Isang Siglong Selebrasyon ni W. Ma. Guerrero," a tetralogy of plays written by National Artist for Philippine Theater Wilfrido Ma. Guerrero, and a tribute to his contributions to the art of stage performance, in celebration of his centennial.
The plays include "Three Rats," a thriller about a husband who uncovers a web of lies and deceit; "Salarin" (Condemned), a memory play where a convicted man's past leads him to retribution; "Kalahating Oras sa Isang Kumbento" (Half an Hour in a Convent), a drama about nuns embroiled in a struggle of beliefs; and "Kailangan: Isang Tsaperon" (Wanted: A Chaperone), a comedy about the enduring advantage of old traditions.
Under the artistic supervision and consultancy of theater and film icon, actor, director and Professor Emeritus Antonio Mabesa, this collection of four one-act plays is directed by a mix of budding and prominent theater performers/directors (Emmanuel Feliciano for "Three Rats," Eric Dela Cruz for "Salarin," Katte Sabate for "Kalahating Oras sa Kumbento" and Olive Nieto for "Kailiangan: Isang Tsaperon").
The plays will feature the MA students of UP's Theater Arts Program, which also include several currently in-demand and well-known film and theater performers.
"Ermita Quartet" runs March 9, 10, 11 (7 p.m.) and 12 (3 p.m. and 7 p.m.) at the Teatro Hermohenes Ylagan, UP Faculty Center, UP Dililiman.
For ticket and other inquiries, contact Emmanuel Feliciano (0927-8378507).