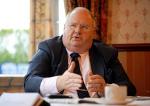 Communities Secretary Eric Pickles will hit the poorest hardest with the latest cuts to local government announced yesterday.
Local councils will face a new average cut in funding of 1.7 percent, he said, only for figures to reveal the actual reduction is actually as high as 8.8 percent.
As The Guardian reported yesterday:
Financially weak councils will go bust and others will be forced to drastically reduce services to cope with cuts to town hall budgets outlined by ministers on Wednesday, local authorities have predicted

The warning came after the government revealed that councils in England would face spending reductions of up to 8.8% from April, with an average cut of 1.7%. The communities secretary, Eric Pickles, described the settlement as fair and said the onus was now on councils to do more to cut costs and pursue "sensible savings" to protect public services.

But local authorities across the political spectrum have warned that they have already made billions of pounds of efficiency savings and the current trajectory of cuts is unsustainable.
Pickles fished for the right kind of headlines by highlighting just one measurement in how local councils get their cash. Yet local government finance is notoriously complicated in the way it's calculated and delivered.
There's no doubt that when all the numbers have been crunched many councils will be faced with having to make even more eye-watering cuts. Services will suffer and the most vulnerable in society will once again be left worse off.
Last year saw near-riots in the council chambers of Haringey and Lambeth as councillors voted for painful cuts because central government passed the buck onto town halls.
Ministers have left it to local councils to deliver a large slice of the misguided austerity drive. It's an 'easy' saving for MPs to make as they are dealing with nothing more than numbers on a spreadsheet.
Local councillors, by contrast, have the dirty job of finding millions of pounds of savings from services that have already been cut to the bone, taking the flack and witnessing first-hand the impact of those cuts.
The situation has got much worse in the past last two years. The Institute for Fiscal Studies calculated that local government funding has almost halved since 2010.
The Health Service Journal reports:
Local government faces cumulative cuts of more than 40 per cent following the chancellor's announcements that he will extend austerity for a further year into 2017-18, according to analysis by the Institute for Fiscal Studies.

The think tank has warned the level of cuts could be even higher if the chancellor's promise to maintain cuts in the next spending review at the current trajectory of reductions means local government is again hit with larger cuts than much of the rest of the public sector.
In fact local councils have seen their budgets shrink every year for the past 18 years with the first tranche of biting cuts being imposed in 1994, the year I was first elected as a Labour councillor in Hammersmith and Fulham.
Almost two decades of cuts had left many councils a pale shadow of themselves even before the 2010 general election. And certainly ill-equipped to handle the extent to which central government has ratcheted up the pain.
It's like putting an anorexic on a diet. Not that Pickles would understand that analogy.
Looking at the figures it appears to me that Sutton is facing a 5.8 percent cut over two years, almost £9 million. Although Sutton have been making our cuts smarter by planning further in advance and thinking more creatively about how to reorganise services, every new round of cuts inevitably become more painful.
According to the Local Government Association (LGA) figures I've been looking at, central government has just swiped away almost one billion (923m) from town halls for the next financial year 2013/14. Worse, they've nicked an additional two billion (1.966m) for 2014/15.
Contrast that with the £25 billion that wasn't paid in corporation tax by tax-dodging companies like Starbucks, Amazon and Google, according to the TUC.
Inner city London boroughs appear to be hardest hit from yesterday's cuts announced by Pickles.
LGA data I got today shows Sutton, in the suburbs, losing £9m over the next two years, while inner city Hackney will have to find £22m, Southwark £26m and Hackney £27m. In fact inner London is hit harder than anywhere else in Britain.
The poorest in society once again bearing the biggest burden of the government's fiscal policies, and disproportionately Black and other minority ethnic communities will suffer.
The Independent reported last week:
Inner city areas of Liverpool and Manchester and parts of London including Hackney will be worst hit with spending reductions of 8.9 per cent. However richer parts of the country such as Surrey, Buckinghamshire and Wiltshire fare much better with cuts of less that 1 per cent.

The Tories claimed that, per head, the poorest parts of England were still getting up to 10 times more from the Government than the richest areas. But Labour said it was clear that the brunt of cuts would be felt by those people least able cope. Independent experts said the scale of the cuts were the worst "in living memory" and would affect services for everyone.

Many councils have already announced job cuts and many more are expected in the new year now the full extent of the cuts have become clear. Overall, more than 100,000 jobs are expected to go.

Tony Travers, from the London School of Economics, said the cuts would be the worst since 1945.
It's not a great time to be a councillor but an even worse time to be a service-user or a local government employee.
100,000 council staff on the dole, many vital services cut in the poorest neighbourhoods, and the surviving council officers stretched to their limits.
Local government is rapidly being driven towards the cliff edge where they cannot cut any deeper without failing in their duties to keep basic services going and protect the vulnerable.
All in the name of austerity, an economic plan that is failing to lift Britain out of a slump predicted to go on for at least another five years. I'm not sure many town halls can take another year of this government.
By Lester Holloway @brolezholloway
Also read:
Starving kids – another indictment of Dickensian Britain
1,000 suicides: victims of a failing economic strategy