I have been unwilling to guess corrective structure here, and still am. There are too many divergent possiblities amongst the scenarios.  
But, the reason I am willing to try a countertrend short trade here is explained below. The summary is that under the rolling upwards bullish correction we travel up to around SPX 2074, while the deeper correction scenarios start at this area. Recent Equities Update.  

Nobody can know the future, but from a scenario standpoint I am will to play for some downside here into the November cycle low (see RLS cycle lows to the right) or beyond.  

I have patiently waited and now the market has neared the 2074 resistance area, which now provides risk reward for a guess at the correction. This is also the upper trend line resistance area. I am uncertain which of these two resistance areas will hold (if they do) but there are divergences here that allow the counter trend short trade: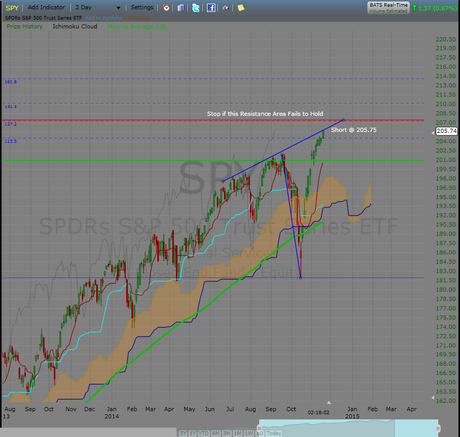 This is not a significant play as it is counter trend right now, but is a nice risk reward setup. I will play this into the November 25-27 cycle low (see RLS cycle lows to the right) and then assess whether I want to play it into the December cycle lows or not.  This is counter trend because the intermediate trend is still strongly up (see RLS trend indicator to the right).

Bigger picture, one of the reasons I am waiting for the next dip to buy rather than aggressively chasing this without caution is because a long time ago I identified this as the end of the bullish cycle under the bearish scenarios. The equality in the cycles can be seen best on this chart: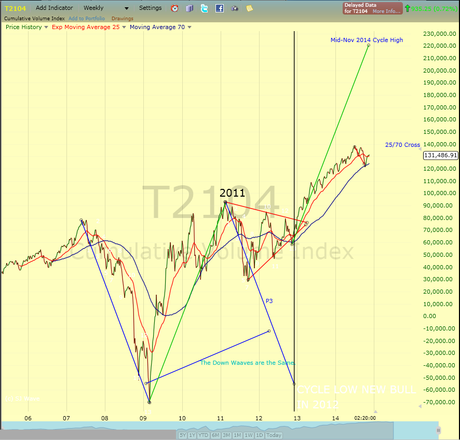 As I have repeatedly stated, I am following the bull scenario as primary and will not stop until it is taken away. However, I would like to see how this correction comes in as the easy money off the October 15 low has been made and we are the area of the chart where there are multiple and divergent scenario possibilities. I want to trade impulses off extreme conditions like in August and October, not guess at corrections amongst many divergent scenario possibilities. 
The GBP/JPY is also at level indicator wise where big big market downdrafts have occurred. Sterling/Yen. I maintain my position that I will not switch to a bear scenario unless the market tells me to switch. I continue to trade this as a bull in equities and will wait to see where the correction comes in for the next dip buy. Holding the bull did unbelievably well at the October 15 Cycle Low.
There is always a bull path and a bear path. We cannot know which path our future will choose. As always, do your own due diligence, read the Disclaimer, and make your own investment decisions.
Peace, Om,
SoulJester