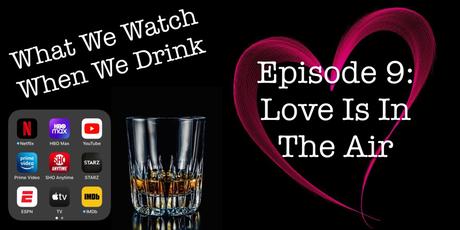 https://boozedancing.files.wordpress.com/2021/02/episode-9-love-is-in-the-air.mp3
Subscribe to the show: Apple, Spotify, Stitcher, Audible, or Google.
Please rate and review the show on your favorite Podcast platform, and if you have any questions or comments, message us here, or send us an email at [email protected]
Paul Young couldn't have sung it any better when he crooned...
Love Is In The Air
Love Is In The Air
Oh, oh, oh, oh...
Freaking poetry, Man. Freaking poetry! And we, the Archers of TV and Film Love, can't agree more.
Oh, oh, oh, oh...
It's Valentine's Day, Kids, so we got together for Episode 9 and talked love in movies and television because it's the only thing that there's just too little of. We love the exciting and new, and we set a course for adventure this week. Love really is all around, and there's no need to fake it. Fake it with others, Baby! We really love you. So, come walk by night, come fly by day, something is sweeter cause we met along the way. Ok, ok, sure, you're not the boss of us now, and you're not so big. And, yes, life is unfair. But we'll be there for you, 'cause you're there for us too. Tell us why we love you like we do. In fact, love us on your favorite Podcast platform, and please tell us how much you love us with questions or comments. Message us here (wink wink) or send us a love email at [email protected]
XOXOXOX
Show Notes:
2.15 Skeptic Ginquila, Kilchoman STR Cask, Single Malts of Scotland Ardmore 21
4:05 RomCom Movies
4:15 Palm Springs
8:45 Always Be My Maybe
13:23 The Big Sick
14:08 Broadcast News
15:20 Love Actually, Notting Hill
16:35 Something Wild
16:58 Say Anything
14:43 Valley Girl
18:15 Crazy Stupid Love
19:30 Definitely Maybe
20:00 The Lobster
21:38 Love and Anarchy
26:00 Bruichladdich 20, Del Maguey Vida, Single Malts of Scotland Orkney 14
27:50 Super Bowl LV, Best Commercial
31:35 The Halftime Show
32:10 Wayne
38:08 The Little Things
42:15 Dark
42:50 Your Honor
44:15 The League
45:58 The Maltese Falcon
47:20 Gomorrah
47:58 Teen Titans
48:45 The Clone Wars
49:30 The Watch
50:50 Caliphate
53:55 The Dearly Departed: Jamie Tarses, Mary Wilson, Christopher Plummer, Hal Holbrook, Larry Flynt