Podcast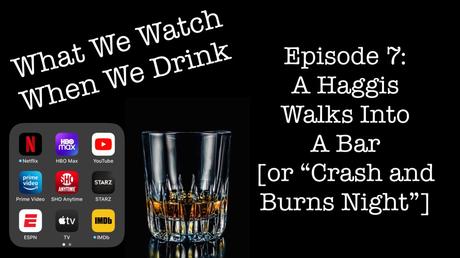 https://boozedancing.files.wordpress.com/2021/01/episode-7-a-haggis-walks-into-a-pub-or-crash-and-burns-night.mp3
Subscribe to the show: Apple, Spotify, Stitcher, Audible, or Google.
Please rate and review the show on your favorite Podcast platform, and if you have any questions or comments, message us here, or send us an email at [email protected]
Episode 7 of What We Watch When We Drink - A Haggis Walks Into A Bar [or "Crash and Burns Night"] - celebrates Robert Burns Night, Scottish Movies and TV, Scottish Actors, Scottish Actresses, Scottish football scores, best Scottish fish & chips takeaway shops, Scotch whisky(!), Scottish accents, favorite Scottish bands, Scottish roads, Scottish superheroes, Scottie dogs, Scottish pubs as a metaphor for the relationship between capitalism and a diverse population, Scottish poems, Scottish soda pop, Scottish politics, popular Scottish names for pets, the current weather in Scotland (cloudy with a chance of haggis), and what Scottish shows we might watch.
(Episode 7 o' Whit We Watch Whin We Dram - A Haggis Walks Intae A Boozer (or "Crash 'n' Burns Night)" - celebrates Rabbie Burns Nicht, Scots Movies 'n' Telly, Scots Actors, Scots Actresses, Scots itba scores, best Scots fish & chips takeaway shaps, Cratur whisky(!), Scots accents, favorite Scots bands, Scots roads, Scots superheroes, Scottie dugs, Scots boozers as a metaphor fur th' kinship atween capitalism 'n' a diverse population, Scots poems, Scots soda pop, Scots politics, weel-kent Scots names fur pets, 'th' current waither in bonnie Scotland (cloudy wi' a chance o' haggis), 'n' whit Scots shows we micht watch.)
Listen in English or Scot today!(Listen in sassenach or Scot th'day!)
Show Notes...
2:00 Robert Burns
3:00 Single Cask Nation Glenglassaugh 6, 54.7% ABV
3:35 Selkirk Grace
6:00 Local Hero, Trainspotting
9:18 Outlander, Men in Kilts
14:50 Scottish Actors: Billy Connelly, Robbie Coltrane, Ewan McGregor, David Tenant, Sam Heughan, Sean Connery, Brian Cox, David McCallum, James McAvoy, Peter Capaldi, John Hannah, Gerard Butler
34:45 Single Cask Nation Port Charlotte 9, 60.25% ABV
38:00 Address to a Haggis
42:15 Scottish Actresses: Kelly Macdonald, Laura Fraser, Karen Gillan, Tilda Swinton, Joanna Vanderham, Deborah Kerr, Isla Fisher
49:45 Clynelish Reserve, House Tyrell, 51.2% ABV
53:45 Men in Kilts, Hamish Macbeth, Taggart, Rebus, Loch Ness, Monarch of the Glen
Categories: Podcast
Tagged as: Booze Dancing Media, Burns Night, Haggis, Movies, Podcast, Podcasting, Scotland, Scottish, Single Malt Scotch Whisky, TV, What We Watch When We Drink