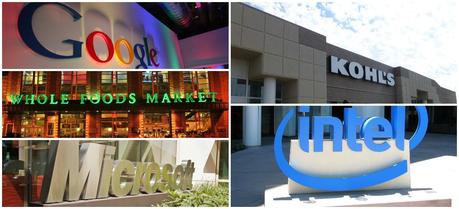 EPA released an updated list of the Top 100 organizations that are choosing to use clean energy
The U.S. Environmental Protection Agency (EPA)'s Green Power Partnership released an updated list of the Top 100 organizations that are choosing to use electricity from clean, renewable sources like wind and solar power.
"By using green power, these companies and organizations are showing that business can flourish while taking meaningful steps to reduce carbon pollution," said Gina McCarthy, EPA Administrator. "Making cleaner choices to power our communities, institutions and businesses reduces the pollution that contributes to climate change, protects America's health and environment, and supports continued growth in the green power sector."
Intel Corporation continues its seven-year run as the nation's largest voluntary user of green power, meeting 100% of its electricity load with renewable resources. Other technology companies in the top 10 include Microsoft Corporation, Google Inc., and Apple Inc. Apple increased its annual green power use by nearly 100 million kilowatt-hours (kWh), moving from No. 11 to No. 8 on the list. In total, the combined green power usage of these Top 100 Partners amounts to nearly 24 billion kW·h annually, which represents close to 83% of the green power commitments made by all EPA Green Power Partners. The list is calculated based on annual green power usage (in kilowatt-hours) by Green Power Partners.
The top 10 partners appearing on the Top 100 list include:
1. Intel Corporation (Santa Clara, Calif.)
2. Kohl's Department Stores (Menomonee Falls, Wis.)
3. Microsoft Corporation (Redmond, Wash.)
4. Whole Foods Market (Austin, Texas)
5. Google Inc. (Mountain View, Calif.)
6. Wal-Mart Stores, Inc. (Bentonville, Ark.)
7. Staples (Framingham, Mass.)
8. Apple Inc. (Cupertino, Calif.)
9. City of Houston, Texas
10. U.S. Department of Energy (Washington, D.C.)
In addition, for the eighth year in a row, EPA is encouraging increased green power use among higher education institutions through the College and University Green Power Challenge. Out of the 33 competing conferences, the Big 10 is this year's conference champion, collectively using more than 309 million kW·h of green power annually and avoiding carbon pollution equal to that produced by the electricity use of more than 30,000 American homes. The University of Pennsylvania continues to be the top individual school in the challenge for the seventh year in a row, purchasing more than 200 million kW·h of wind power annually—more green power than any of the 78 other competing schools.
The full top-100 list is available here.
Earlier we reported on Greenpeace ranking IT companies by clean energy use. Their "Company Scorecard" somewhat differs from that of the EPA.