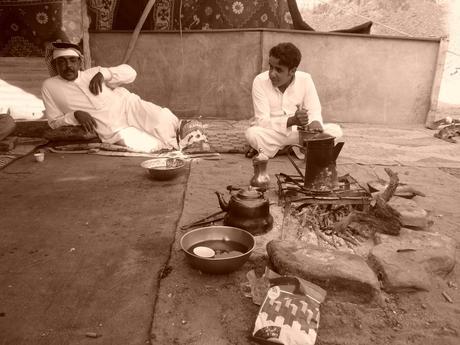 Two generations of Bedouin men at camp in Wadi Rum, Jordan. (Photo: Dorothy Smith)
It was my first visit since the Middle East's wave of popular uprisings began, and I was curious to see if I felt anything different. Of course, the conference on corporate governance I was attending took place in Jordan, perhaps the quietest front in the Arab Spring spectrum, so it wasn't really a fair test. Yet that didn't prevent me from gaining a sense of change.
One Egyptian that works for a multinational organization noted, "What's different these days is the demand for accountability. Nobody wants to sign his name to anything unless he's certain that everything is in order and can be justified – both in the government and the private sector. People feel they will be held accountable for their decisions, and this is a radical difference."
Surrounded by another Egyptian, a Tunisian, and a Jordanian – all participants in the conference from the business community or development organizations – they all nodded their heads in agreement.  Yes, they concurred, people are no longer willing to turn a blind eye to abuse of power and there is a sense of entitlement to open access to information.
My Egyptian colleague continued, "Of course, the downside to this is that nothing is moving in the economy. Since everyone is so cautious, there is little activity taking place and the result is a bit of stagnancy. But, this is a normal reaction, and the pendulum will swing back toward the middle and momentum will pick up again. Even with the short-term pain people are feeling, it is worth it. Nothing will ever be the same – we will never go back to the way we were before. Now we know we can make our own future."
After reading report after report about dire economic forecasts for Egypt, Tunisia, and Yemen, I was encouraged by his sense of optimism.
Over the past several months, the initial euphoria from the youth revolutions has waned in Washington, and a tendency towards cynicism has emerged. My colleague leaned forward and relayed his story about joining the demonstrators in Tahrir Square in the early days of the revolution, about thousands of people streaming in from all directions and joining together in an unplanned, spontaneous moment. As his eyes lit up and his voice gathered strength talking about the sense of momentous change and invincibility in the air, I couldn't help but be swept up by his excitement.
There is no doubt that it will be a long, bumpy ride for Egyptians and others in the region, and there will surely be many setbacks and disappointments ahead. But with a new generation of leaders and reformists like those I met in Jordan, there is a fighting chance that great progress lies ahead.