Whether you are Team Bill, Team Eric or Team Alcide, Entertainment Weekly has a cover for you.  Hitting stands June 24th, all three covers feature Anna Paquin, who plays Sookie Stackhouse, with one of the men vying for her attention.  We see one with Alexander Skarsgard who plays Eric Northman, one with Stephen Moyer who plays Bill Compton, and finally one with Joe Manganiello who plays Alcide Herveaux.  The sneak peak we are given of the article on the Entertainment Weekly website is of Alexander Skarsgard's interview with the magazine.  In it he talks about not being able to get used to the overzealous female fans and his sex scenes in Season 4.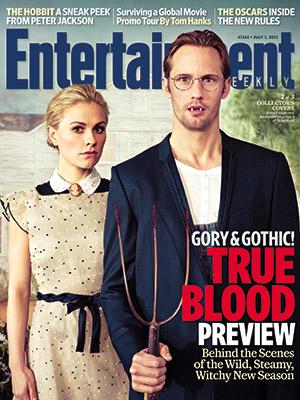 Entertainment Weekly mentions that Charlaine Harris is often asked to address her autographs to Mrs. Alexander Skarsgard, which many female fans no doubt wish was their actual name.  Skarsgard says he will never get used to that aspect of the job and says that it is very humbling and flattering. 
Season 3 was full of sex scenes which may be considered out of the ordinary but Skarsgard says, at least where he is concerned, that the sex this year will be a little more normal. 
"I did some crazy stuff last year. I almost had sex with a Greek man and I was covered in his goo. Everything from here on is pretty childish. Everything's quite innocent."
Check out the three different covers and let us know in the comment section which one you prefer and why.  Be to pick up your Entertainment Weekly on June 24th where you can read more about the men in Sookie's life.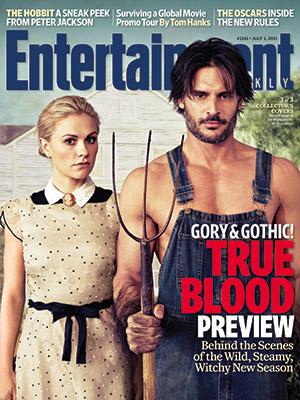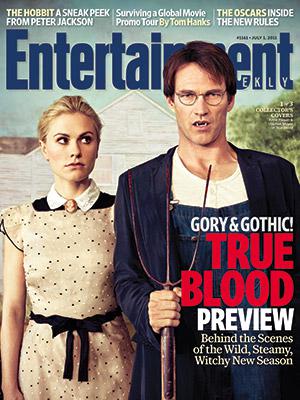 Source:  Popwatch.ew.com – This Week's Cover: Behind the scenes of the wild and witchy new season of 'True Blood'
Image Credit: Entertainment Weekly