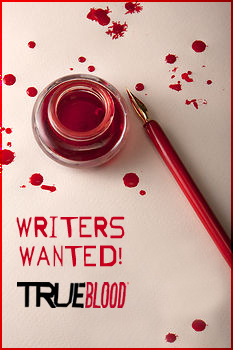 True Blood on Twitter invites you to participate in their second writing contest. If you have ever imagined that you could write a scene for some of your favorite True Blood™ characters, this is your opportunity.
The holidays are approaching and provide the perfect setting for your story to take place. Here is some background to help get you started:
King Bill has decided to hold a charity holiday party to foster goodwill between Humans and Vampires. In keeping with Bill and Eric working as a team, the King has asked Eric to co-host the party with him and has also pulled Sookie in to be the hostess to provide the Human touch, thereby continuing the "triangle" that was present all through Season 4
Our premise will be Eric's recent memory loss has stirred up his real life memories coupled with Sookie's rejection causing him to want to go "home" in solitude for the holidays. Sookie is going to come up with incorporating the Norse theme of Jul (Yule) into the party in order to keep Eric there to help them.
Their panel of judges will choose first, second and third place winners from the submissions and True Blood on Twitter group members will act out the winning story, live on Twitter, as a special holiday event.
First place prize is a signed Alexander Skarsgård print by Kristin Bauer van Straten. Runner up prizes will also be awarded for second and third place winners.
For further information about the contest go to: bloodbites.wordpress.com