Does your dog drive you crazy or drive you to the store?
Fur in the breeze, adventure in her blood, born to be wild Cici loves car rides, no matter where we go. She will hop in anyone's car, (although she has her preferred vehicle, a Subaru, of course). She loves to go to the beach, shopping mall, dog park or to her favorite pet friendly winery. She even loves going to the vet. But, some dogs do not enjoy driving in the car because they associate car driving with getting a bath or haircut and nails trimmed at the groomer or some other terrible experience (going to the vet or worse).  Dogs who fear driving in cars may throw up, drool, whine, shake, cry or otherwise make life miserable for the driver of the car (that would likely by you).
Make traveling with Dog a breeze
You can ease your dog's anxiety in the car through a number of methods, from giving them Bach Flower Essences, Rescue Remedy, aromatherapy essential oils (a few calming drops of Lavendar on paws), a calming collar filled with aromatherapy oils and/or play some nice relaxing doggie music made for scaredy dogs like Through a Dog's Ear by Lisa Spector.
Whenever Cici drives in the car, she is surrounded by her very own pillows and blankets and hitched up to the seat belt but many dogs would prefer and feel safer in a crate or a carrier. NEVER put your dog in the back of your truck, that is one of my pet peeves. What happens when they jump out or if you have to stop quickly? And do not ever let your dog be in the front of the car, sitting on your lap or in the shotgun seat. Much too dangerous. It also goes without saying that your dog should NEVER be put in a kennel on the top of the motor vehicle, either… for ANY length of time.
Cars Made For Traveling Dogs
Car savvy traveling dogs like Cici have voted for their favorite car to drive in. And that car is a Subaru, no matter the model. Cici and I drove our Subaru Legacy station wagon for two years all over California, Nevada and Oregon without a hitch. Well, except for running out of gas and getting a flat tire. Subaru cars are ideally suited to and made for traveling dogs. And their Dog Tested Dog Approved campaign, that we've mentioned a couple of times, shows dogs the best car to drive. Grant Weber, Subaru Canine Sales Associate devotes his life selling cars specifically to dogs. Dogs of ALL breeds, little dogs, big dogs, scaredy dogs, brave dogs and most especially traveling savvy dogs.
Watch him sell cars to dogs here…   click on the link…
As part of their campaign, Subaru has launched a facebook app that is adorable and offers some fun things to do, such as the Subaru Dog Matcher, the Ask the Expert, Put Your Dog in a Subaru, and the Canine Driver's License Division (you can make a driver's license for your dog – I made one for Cici, make sure you put in a fake address).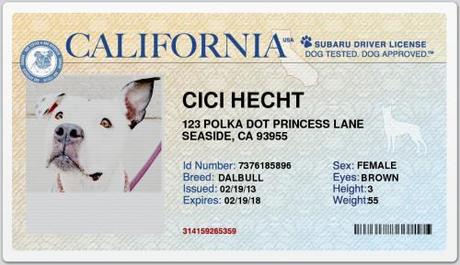 Grant Weber suggested Cici would prefer a Subaru Outback for our next car and with the app we can even build our own Outback to our specifications, and the car even comes with snacks, how cool is that?
Cici would look great
in a Subaru Outback.
With the go-anywhere capability of the Outback, you can get away from that fenced-in yard of yours and sniff out some real adventure…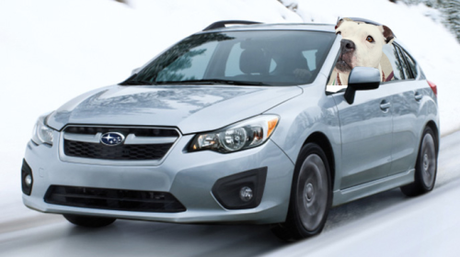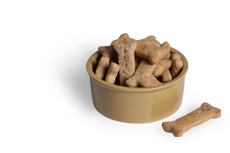 Enter to Win!
Try the Subaru app out for yourself!  Just "like" the Subaru facebook page and you'll be entered to win a Visa gift card!  One first place prize winner will receive a $350 Visa gift card and one second place prize winner will receive a $150 Visa gift card!  The winners will be announced within 48 hours after the raffle closes.  You must enter by clicking here to get to the Rafflecopter form.  Like Subaru's Facebook page to enter, and each of the entries can be done once each day.
Just follow the Rafflecopter instructions. You can enter once per day until 
the contest ends at 11:59 pm ET on Sunday, February 24
.  Start today to win !
Be sure to visit our Facebook page and post a photo of your dog driving a Subaru, your dog's driver's license, and share what you did with the Subaru Facebook app!
This post is sponsored by Subaru. we are helping spread the woof about the Dog Tested. Dog Approved.™ campaign, because [Have Dog Blog Will Travel] only shares news for things we love and support. All opinions are mine.