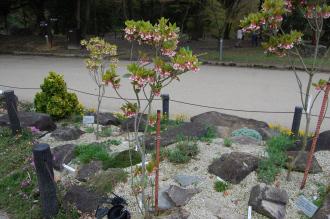 Enkianthus quinqueflorus (04/04/2015, Kyoto Botanical Garden, Kyoto, Japan)
Position: Full sun to light shade
Flowering period: Spring
Soil: Moist, well drained, acidic
Eventual Height: 2m
Eventual Spread: 2m
Hardiness: 8b, 9a, 9b, 10a, 10b
Family: Ericaceae
Enkianthus quinqueflorus is a deciduous shrub with a bushy habit. Its glossy mid green leaves are elliptic with entire margins, up to 15cm long and 5cm broad.  Its white and pink flowers are bell shaped, up to 1cm across and appear in pendulous umbles just before or at the same time as its leaves appear.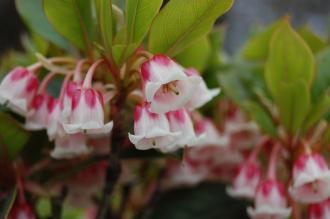 Enkianthus quinqueflorus Flower (04/04/2015, Kyoto Botanical Garden, Kyoto, Japan)
Enkianthus quinqueflorus , commonly known as Hanging Bells or Chinese New Year Flower, is native to south east Asia, including south China, north Vietnam and Japan. In its native habitat it grows at the woodland edge of mixed forests.
The etymological root of the binomial name Enkianthus is derived from the Greek enkyos meaning 'pregnant' and anthos meaning 'flowers'. Quinqueflorus from the Latin quinque meaning 'five' and flora menaing 'flowers'.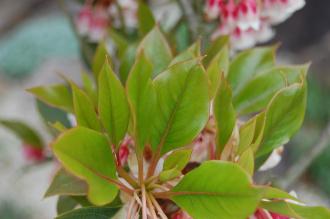 Enkianthus quinqueflorus Leaf (04/04/2015, Kyoto Botanical Garden, Kyoto, Japan)
When available the landscape architect may find useful Enkianthus quinqueflorus as an attractive medium sized deciduous spring flowering shrub suitable for acid soils.
Ecologically, Enkianthus quinqueflorus flowers are attractive to polinating insects.
Enkianthus quinqueflorus prefers moist, humus rich, well-drained soils. It prefers an acid pH of soil.
Enkianthus quinqueflorus requires little maintenance.
Landscape Architecture