Hi Huneybees,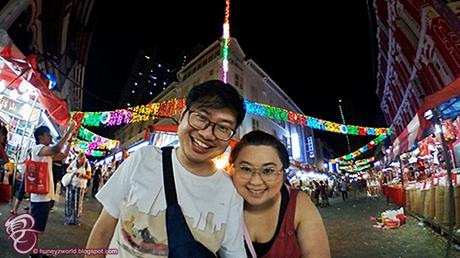 With the Year of the Rat coming, hubby and I decided to take a stroll around Chinatown to soak up the festive vibes, Afterall, 2020 is MY YEAR, how can we miss it right?!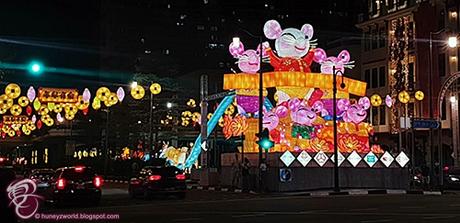 Like every year, Chinatown dons on its brightest suit ever to bring in friends and families to this district for some Lunar New Year shopping, deco, and bites, to prepare for the celebrations. Maybe I'm biased but I find this year's decorations prettier than last's and it looks so much more joyful!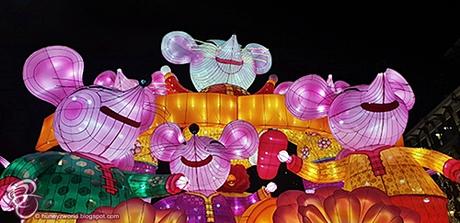 The whole Chinatown area is decorated with lights and 1,388 lanterns along the streets of New Bridge Road, Eu Tong Sen Street, South Bridge Road, and the Garden Bridge. This year's Street Light-Up depicts the story of the 12 Chinese Zodiac race, where the Rat wins the race with its wits and agility.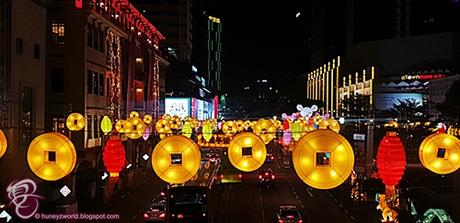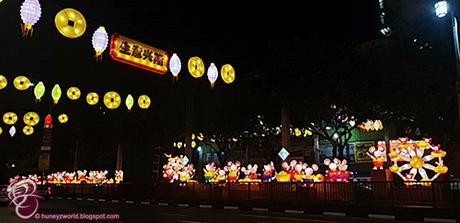 Other than the Zodiac animals making an appearance, the streets are also decorated with flower and coin shaped lanterns. I always love joining the crowd this time of the year and being a Rat myself, I was exceptionally happy to shop along the Festive Street Bazaar. Let me show you what I will normally buy when at Chinatown.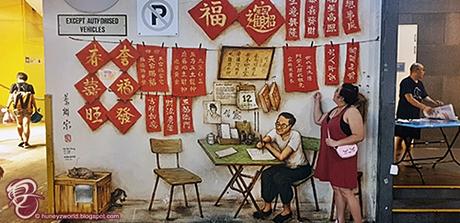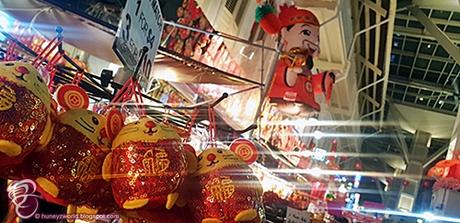 Decorations for around the house is a must get for me, I love sourcing for those with good blessings, special designs that are not common. Hubby always lets me make the decision and designing of the house since I'm creative, I'll show you around our house in the next post...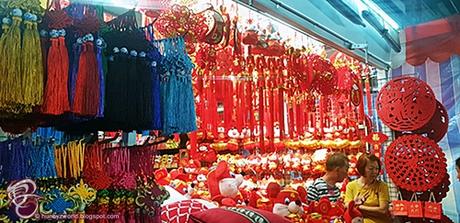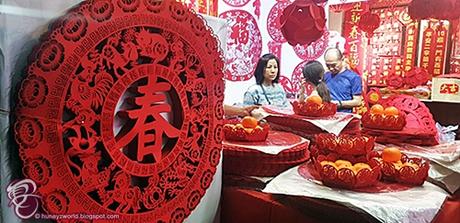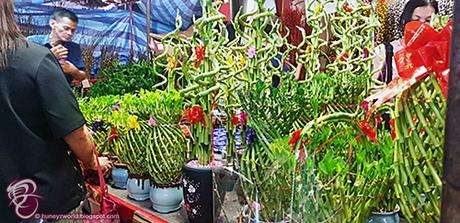 These twisted bamboos plants are said to help "change" your luck and spin off all the bad luck.
How can we not get them too right?
After decoration shopping, we will also shop for some food and cooking ingredients. Mandarin oranges are a must, for they bring fortune and are auspicious, the more you have the better luck you will have for the year!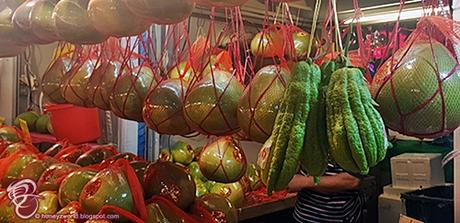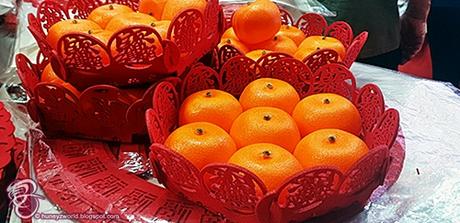 Pomelos are also not to be forgotten. 
Because the Chinese word for pomelo (柚 yòu) sounds like 'to have' (有 yǒu), except for the tone, and exactly like 'again' (又 yòu), so the more you eat, the more wealth it will bring. Pomelos are also a symbol of good health, fertility, and family unity.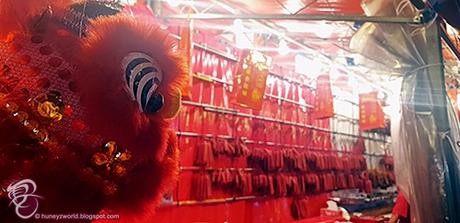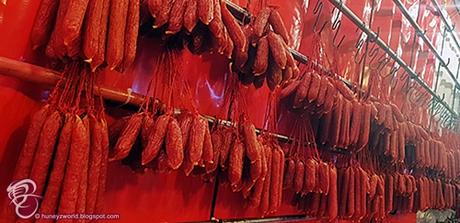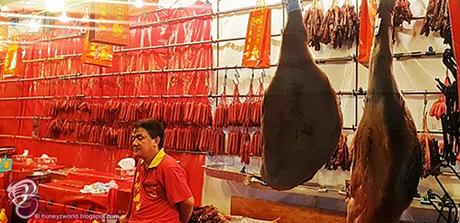 There's also preserved duck version too!
These red sausages are called Lap Cheong - Chinese Sausage; it is normally smoked pork and fat, sweetened, seasoned with rose water, rice wine and soy sauce left to dry in the air. They are exceptionally popular during this season and when cooked with rice, it is extremely fragrant!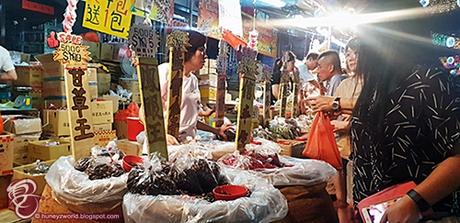 Nuts, sunflower seeds, and peanuts are popular snacks to have on the table too. Not only are they there to keep our mouths busy, but they can also help prevent all the seniors from asking too many personal questions. 
Hahahaha! Actually, the real meaning of nuts is because they symbolize money, fortune and also an abundance of children.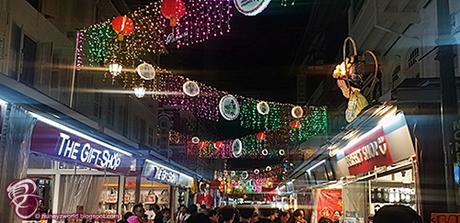 Ok, that's roughly what we would normally get during our Lunar New Year shopping in Chinatown. If you are in the vicinity of traveling in Chinatown Singapore, come on down to soak up the festive vibes and grab some Insta-worthy shots with the lightings!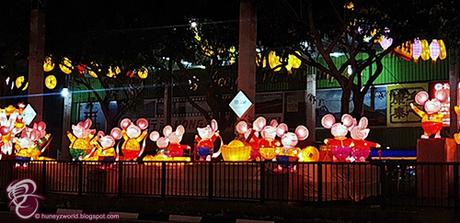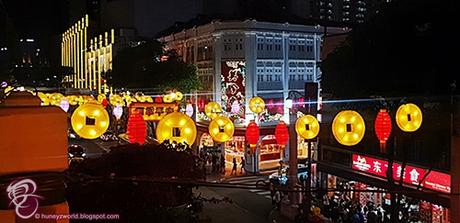 If you are tired of shopping, there are also some activities happening around the area...
Nightly Stage Shows
4 - 24 Jan 20208.00pm - 10.30pmKreta Ayer Square
The festive mood is particularly infectious here, immerse in entertaining nightly performances of festive songs, cultural music, and lively dance performances each night at Kreta Ayer Square. No Chinese New Year Celebration is complete without some music and dance.
A perennial crowd-pleaser, get a nightly dose of Lion Dance from 8.00pm - 8.30pm (except 24 Jan where the segment begins at 9.00pm) for an exciting display of athleticism and skill coupled with thumping drums and crashing cymbals.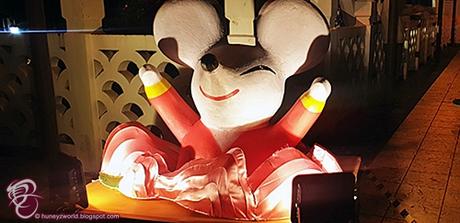 Chinatown Wishing Tree
3- 24 Jan 202011.00am - 9.00pmChinatown Point
Spread some cheer to te less fortunate and the elderly this festive season! Write New Year wishes on a "Make A Wish" card and hang them on the banyan tree. Each "Make A Wish" card costs S$2 and all proceeds collected will benefit Kreta Ayer Seniors' Activity Centre for the underprivileged elderly residing in Chinatown.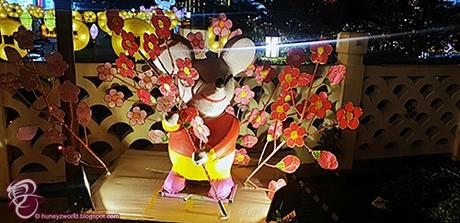 Chinse New Year Countdown Party
24 Jan 20209.00pm - 12.00amStage at New Bridge Road
Come on down to Chinatown on the eve of Chinese New Year and countdown to the Year of the Rat with star-studded performances by Mediacorp artistes and VIP guests. There will be song and dance with Cai Shen Ye on stage and usher in the year with 152 strands of firecrackers and 3 minutes of fireworks.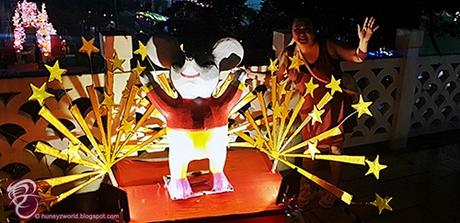 Chingay 2020 @ Chinatown
2 Feb 20206.00pm - 10.00pmNew Bridge Road and Eu Tong Sen Road
The Chingay Parade is the largest annual street performance and float in Asia will make an appearance in Chinatown, ending the 2020 Chinese New Year celebrations on a high note. Join in for a colourful night that includes special performances by local and overseas performers. while marveling at the nine beautifully decorated floats.
There's simply so much to see, so much to do right here in Chinatown, do come on down to check them out. Here's wishing everyone an early Happy New Year, Gong Xi Fa Cai and please be vigilant and responsible at this Wuhan virus time. Only we can all have fun and enjoy when we are careful...
For more information, please visit
www.chinatownfestivals.sg
, 
www.facebook.com/Chinatown.Festivals
 and www.instagram.com/chinatown_festivals.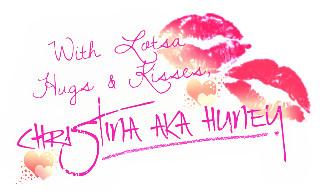 Don't forget to stay tuned to my blog / like my blog's Facebook page / follow me @huney_84 on Twitter & Instagram for the latest updates!
http://www.huneyzworld.blogspot.com