Check out the original post English student flats … (part 3) on Bewildered Bug
So I am addicted to Downton Abbey – I've been spending my days staring at the TV, getting overjoyed when Matthew and Mary got engaged (finally)!!! And I actually wept when Sybil died. Man, I am truly becoming a stereotypical housewife – cooking, cleaning and watching my soaps…
But I am here to tell you about my flat (apartment) not about the drama occurring in Downton to the friends and family of the Granthams and Crawleys!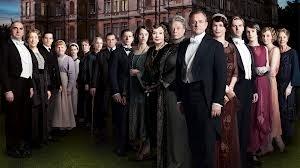 Due to our situation, the only reasonable flat we could get was a student flat – at least, so I am told. As student accommodation goes it's pretty good – the only real downfalls are the finishes and some weird, sloppy design choices that maybe most people would not blink twice at, unless, like me they are trained in Interior Design and Architectural Science.
The apartment itself is quite large with two bedrooms (the 'master' being HUGE), a large bathroom and a large room that, as my Mother put it, caters for five different rooms at the moment – living area, kitchen, dining, laundry and my office. The truth is it's a kitchen with a built in laundry and two stools at the island counter, and space for a living area in which I have tucked a desk.
I love that room because it has a high peaked drywall ceiling with old exposed beams criss-crossing it. The ceiling itself has been pierced twice to include two large skylights that are perfect for dreamily staring out of when the snow and rain fall upon it – not to mention the stars on dreamily clear nights and pigeon bottoms every once in a while….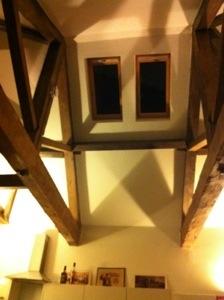 In addition to that, there's a whole wall of windows facing east. A lot of light and space in that room, it is a little chilly at times because there is only one heater, but that problem was solved with a huge fluffy green blanket that the Luv Luv bought last year and in which I am draped in almost every night so far…
The bedrooms face west and have only one window each, but these windows are pierced into the original wall of the structure of the building and therefore have ledges about 18″ deep on the inside, a lovely and useful little shelf for knick knacks, which, God knows I have enough of…..again, the ceilings in these rooms are drywall with an exposed beam running all the way along the length of the room.
What I forgot to tell you, which may have confused you a bit, is that this student flat is one amongst a number of them that were recently built into a series of listed buildings. That's similar to heritage buildings in Canada – an old, historical building that has been recognised as historically relevant to the area. Therefore, as the owner, you are subject to certain laws and restrictions when renovating it – one reason a lot of developers choose not to purchase these buildings (in many countries).
This is one of my passions – the preservation an restoration of historical structures – and living in one makes me quite chuffed (pleased)!
Anyway, that's the reason I have those wonderful deep windows – because back when these buildings were built, there was probably little or no electrical heating (I cannot say for sure because I have not yet researched the exact age of the buildings I am in). That means, for heat they relied on the mass of the walls – a "trick" that environmentally conscience architects have been trying to utilise again in a more modern way.
The basic idea of it is that the heavy, stone mass of the walls would absorb heat from the sun in the day, and store a lot of that heat energy into the evening. In the cooler evenings, the heat would radiate from the walls to the interior space, naturally warming it.
So, architecturally, my apartment fascinates me, a good thing for my days of doing nothing at home (except watching Downton Abbey on Netflix) while I wait for interviews, cards and papers… At the same time, from an Interior Design and finishes direction, it is a bit of a nightmare.
Whoever they got as a contractor seems to be one of those "jack of all trades but master of none" types. The potentially gorgeous white mosaic tiled kitchen backsplash is marred by it not being straight and square – something that even I could do better. The counters do not quite fit the cabinetry. The rectilinear, modern decorative veneer at the front of the island is not square nor as rectilinear as was probably (hopefully?) originally planned. There is one small leak in the ceiling that drips rainwater onto the lovely, damaged wooden floor when there is a heavy rain (I believe they have caulked it now but we shall see). There are also mysterious cracks in the drywall ceiling near the beams – which I believe are being caused by there being no expansion joints to allow the various materials to move and flex in a natural manner (most buildings do this….but I may be getting too technical…).
The tile in the washroom, though obviously the cheapest and ugliest they could have found, is quite effective, except for the fact that after grouting, it was not cleaned properly, and there are big chunks of missing grout in areas that may be a little harder to have reached than the contractor cared to reach. Add to that the ridiculously high tub which threatens to kill me every time I step out, as well as the toilet that makes me feel like a child because it was installed high enough for Kobe Bryant and not for short little chicas like me, you have a functional-enough washroom.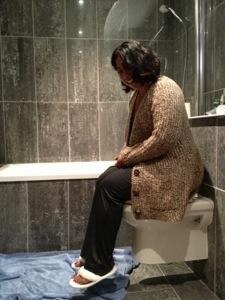 I do however, love the towel warmer, if only it would hear up a little faster.
Oh, and because there was a big pole above the vanity (sink), the poor excuse for a mirror was installed to the right of the sink….where there is not much light thanks to the ineffective lighting plan.
Anyway, the building itself is in the city center of the town of Huddersfield …. one of the only in the city center. A taxi driver explained that there was a by-law that was only recently lifted that had prevented apartments to be developed within the ring road – it had stated that in order to have an apartment, you would need at least one parking spot per apartment. (Again, I was informed by a taxi driver – I haven't investigated this myself so am not sure how real this is). The city center has mostly listed buildings, so no apartments were being developed – and many of the buildings fell into disrepair. The city center also saw a rise in crime since it was so lonely in the evenings and early mornings. They therefore changed the by-law, apartments started being developed and the area is starting to look up. A similar programme was adopted years ago at Eaton Center in Toronto – where it was required for the stores with an exterior wall to have street frontage – thus increasing pedestrian traffic and making the area busier at street level, concurrently deterring petty crime.
What else? Oh!! Finally my chest of drawers was delivered – but when we realized we need a hammer and there is one in my shipment that has not yet arrived (*grumble*), it is sitting in pieces in my bedroom and my three unpacked suitcases are still not unpacked. We made the decision today to car and just purchase a hammer – we'll just have to deal with having two when all is settled.
I also have an interview in Leeds for my National Insurance number on Tuesday, which will be my first time traversing the rail system and the City of Leeds on my own – wish me luck – I will either do brilliantly or be embarrassingly late for my interview!
Oh, and on Wednesday I have my preliminary appointment with my new GP – so that stuff will be settled. This week – find a new dentist, NHS approved…..
Anyways, sorry for this being so long, but I believe that's everything that is going on at the mo…. – any questions about any of this?
Cheers – I am off to my Valentine's weekend surprise trip "up North" somewhere!!
*spoiler – I just guessed where we are going for the weekend – Edinburgh here we come!!!*
Bewildered Bug - ...just trying to navigate through this obstacle course called life...