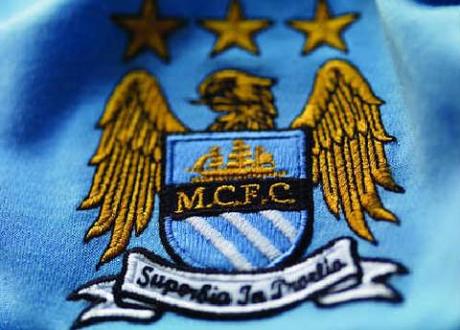 Manchester City club crest. Photo credit: Ivan03
Have Manchester City blown their chances of lifting the Premier League trophy on 13 May? That's the question being asked today after City could only manage a 1-1 draw at Stoke on Sunday afternoon. The latest slip-up by City – they have won just two of their last nine games – means Manchester United go into their game tonight versus Fulham level on points with their bitter cross-town rivals having once trailed by seven points.
The draw at Stoke certainly bothered City manager Roberto Mancini. Reportedly unhappy with Stoke's characteristically roughhouse tactics, he refused to shake hands with his opposite number (Tony Pulis) after the game and sent assistant David Platt to handle the post-match press conference. Mancini's mini-meltdown has sparked frenzied media speculation that he is the latest victim of United manager Sir Alex Ferguson's mind games. However, reports of first-placed City's downfall should be taken with a large pinch of salt; their run-in includes a mouth-watering derby at home to United which means that the title is still theirs to lose.
Mancini's sulk cannot hide Manchester City's travel sickness. "Manchester City have lost the initiative in the title race and are not performing like potential champions, on or off the field," adjudged Joe Lovejoy of The Guardian, who watched City struggle at Stoke. He said that "as unimpressive as their football was Roberto Mancini's fit of the vapours when he shunned the post-match handshake with his opposite number, Tony Pulis, and could not trust himself to speak rationally to the media …" Lovejoy said Mancini's reaction "smacked of sour grapes. Stoke's rough and tumble is not exactly the Beautiful Game, but English football is a broad church, and even style heretics are a welcome part of its earthy catechism." City's draw at Stoke means they have now taken just nine points from 27 in their last nine games away from the Etihad Stadium.
City need to find something extra. Ex-Liverpool defender Alan Hansen identified what it takes to win a title: "People talk about mind games, but the reality is that winning a league all boils down to the mental strength of the players on the pitch and there are certain elements that never change. You should never talk about tiredness, you must not give your opponent any kind of encouragement by dropping points and you have to dredge something extra – fight, belief, grit – that will enable you to win games in the final 10 minutes when they are there to be won." Hansen said City retain a "terrific chance to win the title this season" but "have undeniably given Manchester United too many chances to get back into the Premier League title race this season and, to varying degrees, they have been found wanting on each of the key elements that you must observe when dealing with a run-in." Hansen said that United's player's greater experience of winning titles stands them in good stead: "There is no doubt that experience of being over the course is hugely important. I benefited from the experience of those around me when I was a young player at Liverpool and, as the years pass, you develop a sense of just knowing how to get things done and how to cope with the demands and spot the dangers at this stage of the season. But you never become immune to the pressure and United will not have it all their own way. City need to find something extra, however, if they are to alter the momentum and take their chance of winning the title." 
Ferguson is canny but he isn't Derren Brown. Martin Samuel of The Daily Mail said that Mancini's huff may, at first glance, appear as early evidence that Sir Alex Ferguson's "psychological warfare" is "taking its toll" on the Italian. But Samuel insisted that while Ferguson does from time to time (usually successfully) engage in "mind games," titles are won and lost on more tangible matters: "Ferguson didn't get into Mancini's head, Dean Whitehead's forearm got into David Silva's face, and the Manchester City manager thought not enough was being done by referee Howard Webb to protect his team. Is he feeling the pressure at the business end of the season? No doubt. Is he feeling pressure because Ferguson is messing with his mind? Unlikely. Stoke striker Peter Crouch caused more psychological trauma than Ferguson ever could, by scoring the goal of his life, and arguably of the season, to put City behind." "It is possible that City will surrender the title in the coming weeks and, if they do, the explanation will be considerably more intricate than a little baiting between friends," concluded Samuel. "The untimely injury to Vincent Kompany, the increasing exhaustion of Silva and Sergio Aguero, the momentum lost when Yaya Toure decamped to the Africa Cup of Nations, Mario Balotelli's unpredictability, Tevez's selfishness, all are tiny factors, plus a hundred others unseen." "Titles are won, not lost, remember," said Samuel. "What of the return of Scholes from retirement and Rio Ferdinand from injury, the recent form of Ashley Young and, before misfortune again intervened, Antonio Valencia? What of the fact that Wayne Rooney is the greatest footballer this country has produced since Paul Gascoigne? Indeed, what of Ferguson's position as the finest manager of this or any other generation? Wouldn't that explain rather more of his titles than glorified spoon-bending because, as appealing as the theory may seem, Derren Brown he ain't."