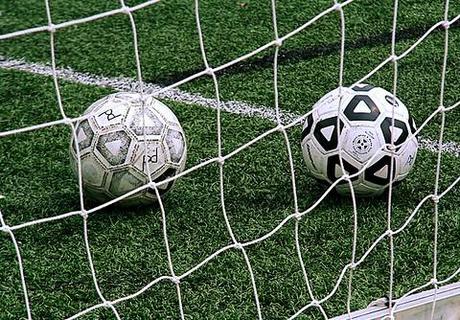 Soccer balls in the goal. Photo credit: Stevendepolo http://flic.kr/p/6Hc3VN
The background
The penultimate game of the Barclays Premier League season few up its fair share of shocks and surprises. Here's The Periscope Post's guide to the most important results and what they mean with regards to who wins the league, qualifies for Europe and is relegated.
Roberto Mancini sure can pick a substitution
Manchester City manager Mancini was widely credited with out-managing Sir Alex Ferguson in the recent Manchester derby and Mancini again displayed his tactical nous this weekend. Manchester City won 2-0 away at Champions' League-chasing Newcastle this weekend but it was only after an inspired substitution by Mancini changed the game. His masterstroke was to remove the largely ineffective Samir Nasri and introduce midfield destroyer Nigel de Jong. At first glance, it seemed a negative substitution but it proved quite the opposite – de Jong's introduction allowed the Yaya Touré to burst forwards safe in the knowledge that he had cover and the results were remarkable. The swashbuckling Touré scored twice and walked away with the man of the match award. "It has always been the most demanding requirement of City manager Roberto Mancini as he juggled, sometimes desperately, his resources," noted James Lawton of The Independent. "However, yesterday, and largely thanks to Touré, he must have felt like a master puppeteer utterly in charge of his act." City's vital away  win means they are now heavy favourites to win the league.
No-one wants to be in the Champions' League next season
Arsenal's inability to lock down third place in recent weeks has been well documented and, in Saturday's game versus Norwich, the gunners again displayed their inability to seal the deal. Arsenal drew 3-3 with Norwich, a team with little to play for other than pride, and were bossed by the Canaries for large portions of the game. To make matters worse, they coughed up a somewhat undeserved 3-2 lead at the death. However, to Arsenal manager Arsene Wenger's huge relief, neither Tottenham not Newcastle were able to really close the gap the following day. Newcastle lost to Manchester City whilst Tottenham could only muster a hugely disappointing 1-1 draw at lowly Aston Villa. If Chelsea beat Liverpool tonight then four teams will go into the final round of games with an opportunity to snatch third and fourth spots. The battle is particularly intense as fourth place will only guarantee Champions' League qualification if Chelsea lose the Champions' League final to Bayern Munich in Munich. "Are the two remaining Champions League spots going to be settled by the team that chokes the least?" asked Tom Bryant at The Guardian Sport Blog.
Blackburn are gone and they won't necessarily be back in a hurry
Blackburn Rovers' listless 1-0 home loss to Wigan on Monday night condemned the troubled Lancashire club to relegation. For most of the season, the Ewood Park faithful have protested loudly against wildly unpopular Indian owners Venky's and inexperienced manager Steve Kean, and last night was no different. During the game a live chicken was thrown on the pitch and, at the final whistle, angry protesters spilled onto the pitch. "If there is a blueprint for how not to run a football club, it will surely come embossed with the Venky's logo," suggested Mark Ogden of The Telegraph, who said that, "the concern for a club once regarded as one of the best-run in the country now centres on how bleak the picture might become. Will Venky's possess the appetite to invest the sums required to make Blackburn competitive in the Championship? As it stands, Kean's team does not have the look of an outfit likely to push for promotion."
It's Bolton or Queens Park Rangers for the last relegation place
Wigan's 1-0 win over Blackburn means we now know it will be either Bolton or QPR joining Blackburn and Wolves in the Championship next season. QPR did themselves a big favour this weekend by beating Stoke City while Bolton could only manage a 2-2 home draw with West Bromwich Albion. But which team will go down on the last day is still too close to call. While QPR are two points ahead of Bolton they must travel to title-chasing Manchester City, where 18 of 19 visitors this season have been defeated. If QPR do lose then Bolton can claim 17th if they win at Stoke. Bolton have won away six times this season and claimed four points from their last two away days but no-one likes a trip to The Britannia on the final day. QPR are the bookmakers' favourites to beat the drop partly because a QPR draw at The Etihad guarantees the superhoops' safety and only a Bolton win gives the trotters a sniff of safety.
Martínez's Wigan are the relegation dogfight's top dogs. Again
Wigan's win over Blackburn guaranteed Roberto Martínez's side safety for another season. Wigan's late rally to beat the drop has been just as remarkable as their two previous successive relegation dogfights. After a hopeless start to the season, Martínez's men have now won six of their last eight games and beaten big hitters Manchester United, Arsenal, Newcastle and Liverpool in the process. James Ducker of The Times praised Martínez for his bravery in "dispensing with a game plan that was palpably not working and putting in its place a totally fresh strategy … the fruits of the manager's forward thinking have been realised over a quite spectacular past two months … "