This post was originally published in the August 2011 issue of
The Holland Times
.
The Holland Times
is a newspaper that reports Dutch news in English for the expat community. A monthly publication,
The Holland Times
can be picked up for free at various locations throughout Amsterdam, The Hague, and Rotterdam, or you can pay for a subscription and have it delivered to your home. For more information, check out the website.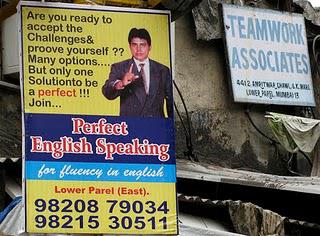 The Netherlands has placed second out of 44 countries for their excellent command of English. TIFFANY JANSEN reports how Dutch business has thrived thanks to this second language skill.
Spend any amount of time in the Netherlands conversing with the Dutch, and you will find that a large majority of the population speaks excellent English. Out of 44 countries in which English is not the national language, the Netherlands scored second in English knowledge according to Education First's 2011 English Proficiency Index (EPI).
"The index uses a unique set of test data from over two million adults who took free online English tests over a period of three years," says the report. The top three ranking countries were Norway, the Netherlands and Denmark, respectively.
Eva Kockum, president of EF International Language Centers, speculates that the top five countries on the list scored so high because they realize proficiency in English is essential to their careers. This is particularly true of Amsterdam, where 80 percent of the workforce speaks English, making it the largest Anglophone city in continental Europe.
A senior researcher at a top executive search firm in the Netherlands, who cannot be named because of privacy issues, says that a solid knowledge of English is important, especially for high-level positions in the Netherlands. "It is very important that candidates have some level of proficiency in the English language," she stresses. "A must even, because most companies we work
for are multinationals."
Of the job searches their firm is hired to perform, roughly 95 percent require candidates who speak English fluently. But the requirement does not end there. "Even if you work for a local office and don't have a lot of international exposure, you still have to communicate with your foreign colleagues. Most correspondence is in English and if you don't have any notion of the language I think it's very hard to grow within the company."
Daniel Mantione of Stichting Taalverdediging, an organisation that supports Dutch language and culture, likens the situation in Amsterdam to that of Brussels 100 years ago when French was the dominant language in Belgium.
"Education and government were entirely French-speaking, and there was a small elite largely emigrated from French areas," he explains. "Because of the high status of the French, the Dutch spoke French in public, resulting in Brussels transitioning from a largely Dutch speaking city to a largely French speaking city. "In Amsterdam there's also a small English speaking elite present consisting largely of people working in top levels of corporations such as management, expats and knowledge migrants."
Kees van der Zwan, editor of the language magazine Onze Taal, warns that "though knowledge of English is important in the workforce, the question is how well the candidates speak the language. After all, you think, speak and write best in your native language."
Does this mean that people who are not fluent in English will lose out on jobs? Not necessarily, according to the senior researcher, "I once turned down an Italian and a French candidate because of their poor English skills, but that doesn't happen often. And very rarely with Dutch candidates.
"It depends on the level and setting of the position. If you want to apply for a job in an international setting this is a problem, but if you work in a store and only have to deal with a tourist once in a while, English skills are a non-issue.
"Nowadays, with English being embedded in Dutch society, I don't think this will be a problem as there are fewer and fewer non-English speaking Dutch people."
How then, did the Dutch get so good at English in the first place?
There are many theories, including the influence from English technology, the popular music, film and television broadcast in English, the globalization of the economy and the influx of expats and knowledge migrants it has brought and the shortage of Dutch speaking regions outside of the Netherlands.
The necessity of English fluency is not just limited to the office. "At university and other higher education institutions, English is increasingly becoming the language of the teachers, the language that research and courses are conducted in and the language in which theses are written," says Paul van Grembergen, chairman of the Algemeen-Nederlands Verbond, which contributes to the Dutch Language Union.
"It is extremely important for the Netherlands to invest so much in learning the English language. Communication with people of other origins is vital and there are few other places where Dutch is spoken," says Joost Mulder, representative for Het Ampzing Genootschap, an organisation of Dutch language purists with a light-hearted twist.
"There has always been a dominant language and there always will be," says Stichting Taalverdediging's Mantione. "In the past it was Latin. Right now it's English. And eventually English will be replaced by another language, perhaps Chinese."
Business and international communication uses aside, Mulder appreciates the value of knowing a foreign language. "Personally, I find learning a new language extremely fun and interesting," he says. "Besides English, I'm pretty good at German and speak a little French and Spanish. Turkish and Arabic are on my wish list."
With most of Holland's population seeming to have the same attitude, Dutch business should thrive no matter what language takes the world's stage.
Check out Tiffany's article on stree relief for train commutors in the September issue.
Photo: Unlisted Sightings, Flickr

Did you enjoy this post? Subscribe via rss feed or email to catch the latest from Clogs and Tulips: An American in Holland.
©2011, Clogs and Tulips: An American in Holland. All rights reserved. On republishing any part of this post, you must provide a link back to this original post