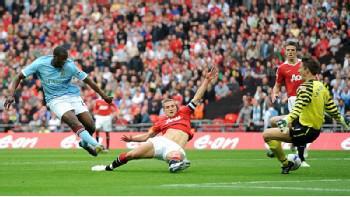 As many of you who follow this blog know, I have never been a fan of Manchester United (especially after they signed a marketing deal with the Yankees many years ago). I've always referred to them as the "English Evil Empire."
Like Yankee fans, United fans come off as arrogant and entitled. And United shares the city of Manchester with Manchester City, a club that has had some, but not a lot of success in their history.
I've always made the comparison of United and City to the Yankees and Mets as the best comparison between English soccer and American baseball. (Man United and Liverpool might be their version of Red Sox-Yankees.) It's been a rough last few years for City, as they were relegated down to the Third Division before fighting their way back up to the top division. They haven't won a trophy since 1976, while the behemoths they share their city with have come away with a trophy case full of honors over the last two decades. (Sure sounds similar to the Yankees and Mets to me.)
Today was the English FA Cup semifinal at Wembley Stadium, and both clubs were drawn into that semifinal. But today, City fans can hold their heads up high as their heroes pulled a 1-0 upset win and Manchester City earned their first berth in the final since 1981 (when they lost to Spurs). The winning goal was scored by Yaya Toure (love that name) in the 52nd minute.
Good luck to the Blues in the final on May 14th, when they play the winner of Bolton-Stoke in the other semifinal (to be played tomorrow).
And the last time Manchester City won the FA Cup? 1969, which also happened to be a good year for their American counterparts from New York as well.