Trees are an important part of our ecosystem and have been so all through our existence as humans. At the very least, they give out oxygen and in return absorb carbon dioxide from the environment.
Since the dawn of time, they have played an important role in civilization. With them we built or were able to make houses, chairs, papers, drugs rubber and lots of other useful stuff that are necessary for life.
As you can see explained here, they are also necessary for the maintenance of a healthy environment and in some cases some of our food also comes from it.
What is a Tree Removal Service?
These are organizations that specialize in the treatment, maintenance and removal of trees. They could also be involved in landscaping, lawn maintenance and giving care to botanical gardens.
The care itself is a process of maintaining and improving the vitality, structure, appearance and output of a tree.  Ideally though, this should start before it is planted.
These particular organizations however, deal specifically with cutting down of trees. This process can be quite complicated and even dangerous, it normally will require a team of professionals to properly complete.
Why Cut Them Down?
While it has been very well acknowledged that they are very important part of the environment, it is also important to note that for one need or another, bringing it down might be necessary.
An example might be when they are diseased or grow in an area where it proves to be an obstruction or even a danger to the society. In such cases it might even be negligence on the part of the owner or whoever is responsible for it not to remove it.
What are the services they offer?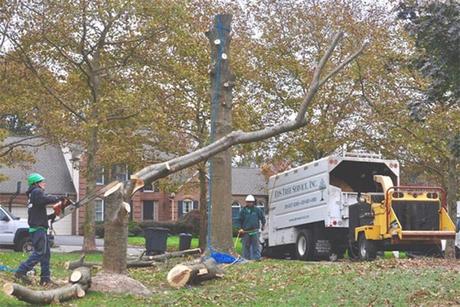 It is important that when engaging their services, you specify what you want. This is because there are different aspects to the tree service they render. As a matter of fact, there are different stages and aspects of tree removal that are required.
You have to properly familiarize yourself with the different stages involved so as to know what to expect from their services. Knowing these can also help you understand what exact aspect of their services you need. You should note that naturally, the extent of service you require will also affect the cost to you.
Some of the different aspects of this process that you need to be aware of include:
Stump Removal
A lot of times the main trunk of a tree can be cut down leaving the stump behind. It could also be a natural act that took off the main body and left the trunk in place. This method basically involves uprooting this trunk which is a residue of the main thing. It also ensures that it doesn't grow back.
Limb Removal
This refers to the pruning, and removal of dead or dying branches. It could also involve the removal of perfectly good and healthy branches for any number of reasons.
Trunk Removal
This has to do with the removal of the main body.
Log splitting
Log splitting obviously is another issue on its own and the split logs can serve a useful purpose for either the owner or any interested party. They can be used as log for the fireplace of they can even be sold.
Factors that Determine Cost
Cost is a major consideration factor when choosing a service to handle this task. There are several factors that determine cost and we will look at a few of them.
Height and Thickness
Obviously, the height and thickness is a factor in determining cost. This is because the higher the height the greater the risk and skill required.
The same rule applies regarding thickness. It will require more by way of skill and time and will therefore cost more.
When they have Already Fallen
This will most probably cost less; this is because, there's no climbing involved. However, if it is entangled with a structure, then it might influence the price a bit depending on the severity.
The State or Condition of the Tree
This is also another factor in the cost of the job because issues or situations like exposed roots a split trunk etc. can make the job much trickier.
The Location of the Tree
This scenario includes issues like how close it is to structures or to a power line. Sometimes it might even be that it might be entangled with one thing or the other in which case extra precaution will have to be taken.
You can learn more about this entire tree removal process here: https://en.wikipedia.org/wiki/Felling.
Conclusion
It can be seen that tree care can also involve its removal when necessary. It is also an important aspect of keeping our environment organized and safe.
Care should be taken that such ventures are done properly and professionally to avoid accidents or unnecessary liabilities. It is therefore important that you do a proper background research on what you want done and who can get it done properly.
Hopefully, this article has provided you with some information to help you make the right choice.