Send to Kindle
–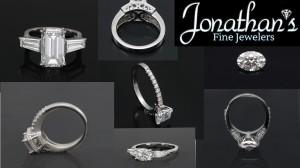 As a consumer you have to be educated, and with the Internet it's not hard to become educated in the ways of diamond and engagement ring buying. After all, there are hundreds of millions of articles on the 4 C's of diamonds and thousands of articles on how to buy a diamond and trillions of articles on what to look for when you are buying an engagement ring and let's not even get started on how many articles there are on how to pick the perfect style of engagement ring.
But, with all those articles being written, how many articles actually tell you what the design elements that are on those engagement rings? I can't tell you how many times I have a client who comes in with a picture or an idea and can describe it but has no idea what "it" is, and then when I tell them what "it" is, they give me a blank stare as if I spoke a foreign language.
Education is not just about the 4 C's, but also about design. No jeweler expects you to walk into their showroom or store as a designer and draw out the ring of their dreams, but it would be nice if you could describe the ring of your dreams with more than the stats of the diamond, the metal you want and that you want it to be pretty.
Engagement Ring Design Elements
The PRONG SETTING is the most common type of ring style. Each prong in the setting is a narrow piece of metal and there are usually 4 to 6 prongs to hold the gem in place. Sometimes the prongs are called claws.
A CHANNEL SETTING has one or more grooves or channels and the stones are set edge to edge in rows inside the channels. As an engagement ring design element, this is often used down the shank of the ring, or the part that fits around the finger.
In a PAVE SETTING the gemstones are places close together and it looks like a field of gems. This is also along the shank of the engagement ring and often on a wedding band.
A BEZEL SETTING is a thin metal strip that wraps around the gem to hold it securely in place. Although bezel settings can hold faceted stones, they are traditionally used to hold cabochon stones, but have become a more popular engagement ring design element for center stones.
INVISIBLE SETTINGS are associated with Van Cleef & Arpels and they are the most difficult setting to accomplish because there appears as if there is no metal holding the stones together.
A TENSION SETTING displays the stone by making it look like it's suspended in space. The stone is held in place by pressure from two opposing pieces of metal from the shank.
With a CATHEDRAL SETTING the center stone is set between bands that extend from each side of the shank and flank the prongs to draw your eye to the diamond. These engagement ring design elements also provide good protection for the diamond.
If you use BAGUETTES in your setting, these are set on the sides of the center stone as accents along the shank. Baguettes are long rectangular shaped stones and they are generally skinny, but they can have a slight trapezoid shape as well.
Everyone has seen a HALO as they are truly one of the most popular engagement ring design elements today. The reason for this is when you surround a stone with smaller diamonds it not only will emphasize the sparkle of the center stone, but make it appear larger.
COLORED GEMSTONE ACCENTS have also become popular over the years. These stones can be placed along the shank next to diamond accents or just used by themselves with a diamond center stone.
A EURO SHANK has a squared off bottom so the ring won't spin around and when the ring is off, it makes the ring look more contemporary.
If you like scrollwork and design on your ring, then you want FILIGREE as a design element. This is usually lasered into the ring or cut into the ring and sometimes even done by hand. It is very labor intensive and can give the ring an antiqued look.
If you like the decorative look and want those tiny beads that edge the band of your engagement ring, then you are looking for MILGRAIN EDGING. This design element adds to your ring and design and is often used around the stones that are set along the shank of the ring.
ENGRAVING can be done on the outside of the ring or the inside of the ring. It can be very precise or not. Usually engraving is done with a computer and a machine, but there are many jewelers who do still hand engrave a piece, which gives an engagement ring an old world look and feel.
A KNIFE EDGE on the band has two slanted sides that meet at a point on the top and depending on your preference and the bands width can depend on how long and high the knife edge is. Generally a knife edge is an engagement ring design element that is found on a solitaire setting.
COMFORT FIT wedding bands are crafted using extra metal to make the inside of the band slightly domed, resulting in a very comfortable fit. They are especially recommended for men, because they are easier to squeeze over a large knuckle when putting your ring on or taking it off, and it's much more comfortable to wear once it's on.