In this post, We have compared Engagebay with HubSpot. To know more Read...
Do you wish to know more about Engagebay vs Hubspot? Do you want to know about the best CRM software to help you set up your business effectively? Then this is the right place to look for.
To manage and organize a huge number of leads and queries, businesses need trustworthy CRM software. A software that can resolve all +issues hassle-free and from one point of operation.
I am going to discuss two prominent CRM software available in the market. They are Engagebay and HubSpot. It will be a comparative analysis for the user's benefit.
It will be an unbiased analysis of Engagebay vs. HubSpot so that you can make an informed decision based on facts. I know it isn't easy to zero in on CRM software that provides an all-in-one platform for your business requirements.
I will discuss all the relevant pointers to clarify their products, services, and pricing. I will also discuss which CRM is more user-friendly and economical for your budget. Because if you are a startup or in the initial phase of your business, you might have limitations on your marketing expenditure.
To have an initial budget crunch is all right because not everyone is born with a golden spoon, and I will explain everything about this two software so that you can easily decide which one to use for your marketing campaign.
Bottom Line: In terms of customer support, pricing, on-boarding and dashboard, EngageBay leads the battle and offers various marketing tools along with it. Every tool has some pros and cons but overall EngageBay is much better CRM tool than Hubspot because of its flexibility and ease of use. Hubspot is an enterprise that offers free CRM as same as EngageBay. If you need more bells and whistles, it is a pricey option. Try EngageBay For free.
Today, I will be discussing on following pointers:

Engagebay is a software platform that provides an all-in-one marketplace for its customers, including sales and marketing, CRM, and support software. Although it was founded in 2017, having a list of giant competitors, Engagebay did make its own path for itself.
When other companies confined their CRM offers to big business companies. Engagebay had a great deal offering CRM to small businesses and start-up companies.
Engagebay is cost-efficient, easy to use, easy to implement, lots of integration facilities, and automated in nature.
Hubspot is a marketplace for different kinds of customers to flock together for sales and marketing. It incorporates customer relationship management (CRM), lead management, track, classifies, and seamless closure for sales. As the name suggests, it is a place where all the sales and marketing converge together at one same place for the betterment of productivity.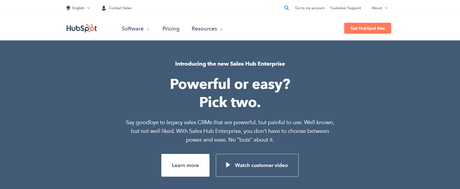 It provides a number of various features to its customers, and its main goal is to maintain all kinds of inbound marketing and sales in one place for effectiveness. The company was founded by an American software developer named Brian Halligan alongside Dharmesh Shah in the year 2006.
HubSpot is expensive, mandatory annual commitments, difficult in implementation, still developing on integration.
Engagebay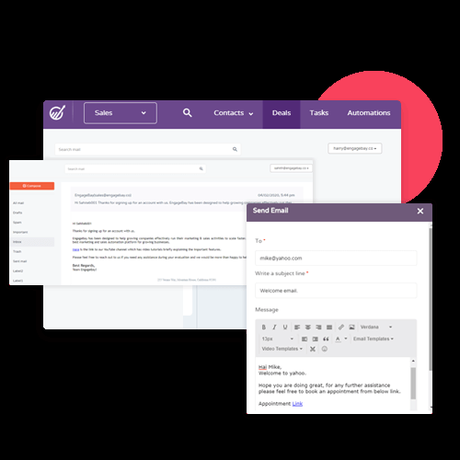 Marketing Automation of Engagebay nurtures your target customer, saves a lot of time, automates schedules, manual jobs, and improves productivity and efficiency without compromising quality.
Hubspot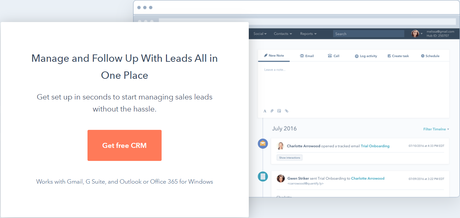 Though HubSpot charges more with their marketing automation feature, their customers have appreciated automation tools on several review sites.
Marketing automation tools work flawlessly for every aspect of client acquisition and help in recall and retention. Client intake and communication forms are user-friendly and improve efficiency.
It provides personalized email marketing.
Engagebay
It provides a syncing email mechanism between CRM and mail. Hence a company can get a copy of the email within the CRM for future references.
Hubspot
It provides an accurate dashboard to track the tasks' progress and keep track of the relationship management.
Engagebay
They have an engaging leadership board with game elements to keep the team engaged, motivated, and competitive.
Hubspot
Integration with other software tools like Sendgrid, Zapier, Piesync, Xero, etc., to provide top-notch service to their customers.
Engagebay
Both sales and marketing teams have been integrated with tools like Wistia, Eventbrite, SurveyMonkey, Zendesk, etc., so they could sync and track each other's activity without a hassle.
Hubspot
This makes it easy for those who are enthused to have a brief talk with the sales team when they want to.
Engagebay
They have the same appointment scheduling feature, in which they send out the meeting dates via an individual or team calendar so the relevant party could have a talk when necessary.
Hubspot
It records all the chat conversations and interactions with your customers and saves them in a conversation Inbox.
Engagebay
The calls between the customers and the team get recorded and go to call logs records, which is useful for future purposes if there's an escalation.
Hubspot
Pipeline management provides a crystal clear point of view of your sales pipeline, including the active and closed ones.
Engagebay
It provides Pipe visualization for acknowledging the deals that are closed, deals that are yet to be done and in progress.
Hubspot
It provides reports which include any tickets that are not closed and the ones that are closed, and it also provides information about the time-to-close reports to improve the efficiency of customer services.
Engagebay
It provides a brief, precise sales report of an individual and provides the same team level to let you know your strong areas and where you need to improve.
Hubspot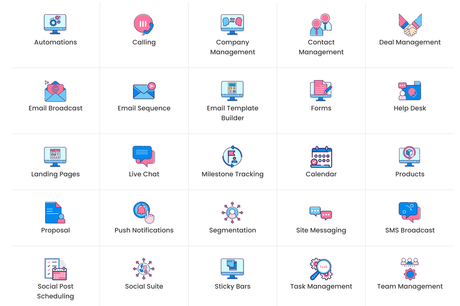 It provides task management, where you can analyze your work and do a follow-up on your sales and support team for a possible conversion based on the assignments you've taken up and completed.
Task Management :
It provides a complete automated data entry system, hence eliminating the time taken to do manual data logging.
Data Entry :
It provides a comprehensive lead scoring system, which could give you a preview of a number of potential leads qualified to become customers.
Lead Scoring :
It provides a contact management system, where you could organise your campaigns and get personalized communication with customers and leads.
Contract Management :
Hubspot provides a bunch of pre-saved templates for email, which could be sent without putting in the manpower to type but save time.
Pre-Saved Template :
It also provides an integrated email tracking feature, so you can know when the recipient actually saw your email and sends you an email notification on the same in brief.
Integrated EMail Tracking :
Chatbots are used for Live chats. For any instant response to any queries. They also use chatbot builder for customization needs.
Chat Bot :
It sends an email of an active customer support ticket to the corresponding team member to act upon it and close the ticket before it gets escalated.
Ticket Follow-Ups :
Easy To Use
A complex dashboard is normally a discouraging factor if you are exploring CRM for your business.
Engagebay software has been designed with utmost care for easy navigation. Their software allows automating manual activities that increase your work speed.
Their interface is very user-friendly and easy to use. You can create amazing campaigns with Engagebay.
HubSpot also has a user-friendly dashboard.
They offer a great balance between automated, efficient, and approachable easy to use platforms for campaigns.
Engagebay and HubSpot offer very responsive customer support. I can use here a couple of customer reviews from review sites.
"Engagebay's customer care helpline has helped me solve an implementation glitch almost instantly. They are very responsive and professional."
Engagebay has got 4.9 out of five in customer ratings. (capterra.com)
HubSpot's support staff is fantastic and very quick to help when I have a query. It would be really tough to handle my business without HubSpot.
HubSpot has got 4.4 out of five in customer ratings. (capterra.com).
Every business owner wants safe and secure CRM software for his/her data protection and smooth customer journey.
Engagebay offers a high-end secure experience with two-factor authentication, IP restriction, encryption, and audit logs. They follow security protocol very religiously, with only authorized permission allowed for data access.
HubSpot works with industry-recognized and proprietary solutions for their security services and data protection. Their automated system monitor 24*7 for any flaws in the system that can breach your valuable data.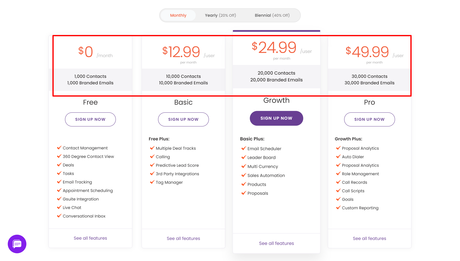 Engagebay offers four packages options.
Users will get 1000 contacts and 1000 branded emails.
Free Version
The basic version is available for 8.99 Dollars per user/month.
Users will get 10000 branded emails and 15000 contacts.
There will be a customer support team for all your queries and onboarding purposes.
Basic Version
The growth version is available for 29.99 US Dollars per user/month.
This package comes with 25000 branded emails and 50000 contacts.
A dedicated customer support team for your onboarding and queries.
Growth Version
Pro version is available for 47.99 US Dollars per user/month.
This package offers you unlimited contacts and 50000 branded emails.
Pro Version

HubSpot offers pricing plans in three packages.
The Starter version starts with 45 US Dollars per month.
Starter version
This package is available 450 US Dollars per month.
Professional Version
Enterprise package comes in 1200 US Dollars per month.
Enterprise Package
With HubSpot, all of these packages come with an annual commitment from the user.
Pricing matters for all types of businesses. You don't want to pay more for the available services at much lower rates with a better CRM platform.
As both of them are CRM Software, they have a couple of similar features as well.
Pros & Cons
Engagebay
Users can save up to 90 percent by using Engagebay on their subscription fees.
Customers can try onboarding without any cost.
No mandatory annual contracts.
Engagebay provides most of the features offered in Hubspot, but it came into predominance mainly as an affordable alternative to Hubspot and other expensive CRM providers.
Of course, Engagebay offers free CRM, unlike Hubspot, which restricts many features for their professional CRM plan. It deliberately offers you many of its features.
If you are doing a small-scale business and you are branching out to a medium scale, you would still be able to buy Engagebay CRM software since their pricing is modest.
There are no options for making your own templates.
Cons:
Hubspot
HubSpot is an expensive option.
HubSpot charges for on-boarding.
The customer has to go through an annual commitment procedure to sign-up with HubSpot.
Hubspot has been in the market since 2006. If anything it has offered so far, it is known for its reputation and recognition worldwide.
It is trusted by millions of people in the sales and marketing field; you'd make a solid and wise decision if you are choosing them.
It provides a free CRM to everyone, which is a tempting offer to grab onto. On the other hand, it has its name because of what it has acclaimed with its wealthy integration.
Although it provides a free CRM, you're limited to its resources that they offer for a free package. If you're looking forward to a more inclusive landing page, more than a dozen dashboards, and more features that are not provided in a free package. You got to pay and upgrade to a professional plan. It's more like luring you into it for free and using the standard business tactics.
Pros:
HubSpot is an expensive option in comparison with Engagebay.
Cons:
👀Which one is a better CRM between Engagebay and HubSpot?
To have a cost-effective, easy implementation software, Engagebay is the best available option in the market. It is perfect for all types of businesses. HubSpot is expensive and takes weeks to implement. It is suitable for small and medium enterprises. Visit their sites, read reviews and make your choice.
✔ Do I have to pay for onboarding?
With Engagebay, onboarding is totally free. You will also get unlimited contacts. In HubSpot, Users have to pay a hefty amount for the onboarding process. Users will get 10000 contacts with sign-up.
💥How secure will be my data and account?
With Engagebay, you will get a top-notch security system with two-factor authentication, IP restriction, encryption, and audit logs. They have prepared a rigorous security protocol for your valuable data and account. You are only authorized to access or grant access. HubSpot works with industry-recognized and proprietary solutions for their security services and data protection. Their automated system monitors 24*7 for any flaws in the system that can breach your valuable data. Security is something that cannot be ignored or avoided. Engagebay and HubSpot both have done amazing work with their security protocols.
With this, I have arrived at the conclusion section of this article. I have explained all the notable features of Engagebay and HubSpot. This is my unbiased analysis. But I have to explain facts here because the objective is to bring a comparative analysis on Engagebay vs. HubSpot.
Also Read:
You as a user need to know all the aspects to arrive at an informed and sound judgment. A decision that can make or mar your business prospects. A decision that makes you ahead in your enterprise goals and objectives.
According to my understanding and analysis, Engagebay is a better option in comparison with HubSpot. It is a totally neutral viewpoint, and you might have a different take on it. My viewpoint is based on the following facts:
Free onboarding; this is not possible with HubSpot. You have to pay 6000 US Dollars for onboarding with HubSpot.
On onboarding, Engagebay offers unlimited contacts while HubSpot gives you 10000 contacts.
Implementation takes weeks in HubSpot and is expensive too. At the same time,
Engagebay does implantation in a couple of hours and is much economical in expenses.
There are no annual contracts with Engagebay, and there are mandatory annual contracts with HubSpot.
Use Engagebay to save time in comparison with HubSpot.
I know several people who are using Engagebay, and their feedback is really awesome. Engagebay is not an alternative to HubSpot. It is much more, or if I can say, better than HubSpot.
Please give it a thought and opt for an affordable and more efficient CRM for your business.
Let's wrap up this article with a couple of Frequently Asked Questions.
That's all for the article. With these frequently asked questions, I have come to the end of today's piece of article.
I hope with this article; you will get some guidance about which CRM to choose for your business. It is an effort to share CRM information to make your business journey a bit more comfortable.
My favorite is Engagebay because of all the mentioned reasons and amazing navigation.
So, visit their websites, compare, read reviews and choose a suitable CRM for your business.
Best of luck!!!!