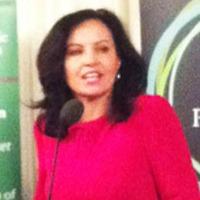 THE GOVERNMENT needs to create a trusted and accountable energy sector to secure investment and stop already notable climate change, said Caroline Flint.
The shadow Energy and Climate Change Secretary emphasised it was crucial the Government made solid targets for the upcoming years and gave a clear message on its stance.
Talking about UK energy, she said: "This is a massively important area and why are we doing more than we ever have done before in government, and in business and academic circles.
"In order to get investment we have to have an energy sector that is accountable and works in people's interests.
"There are many jobs and opportunities that come in this sector and I have met some fantastic people who are graduates and engineers who have learned their skills at a high level. There are roles at all levels and it is very exciting."
She added it was important to address both the issues of how and what type of energy is used as well as decreasing our energy use.
She said: "We need to turn to other matters of concern, like bills. People want to know they are paying a fair price for their energy and that they can trust the energy sector."
Ms Flint was speaking just after E.ON announced it would join the other big six companies and hike its prices up, leaving some consumers with annual energy bills of over £500.
She said: "There is a real opportunity we have to grasp, but it is not helpful if we don't have a clear message from the government. We need predictability and certainty. I am looking forward to the Energy Bill. There are lots of messages in the Energy Bill that are really important, though there needs to be some ironing out and clarity.
"This is not just about doing the right this for our plant, but also doing the right thing for our businesses."
A spokesperson from the Eco Experts said: "It is great that Caroline Flint has recognised that the solar industry needs certainty in order for it to prosper and boom.
"It is also important that she referred to the increasing costs of energy in the UK and how renewable energy offers a valid alternative to it. We hope as the Energy Bill is finalised there is greater support for the solar industry."
Ms Flint was speaking at the BPVA Christmas event in London on Wednesday (December 12).