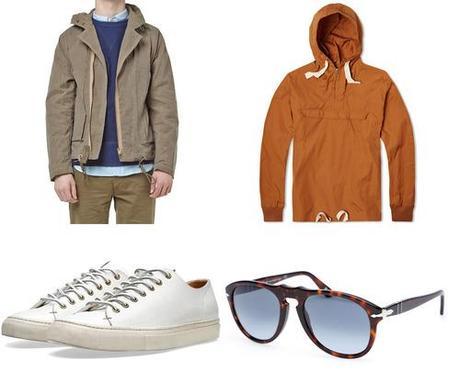 End just started their spring sale, with 25% taken off select items if you use the checkout code SS14PREVIEW. Some notables:
Battenwear: A great outerwear line designed by Shinya Hasegawa, who used to work as Daiki Suzuki's design assistant at Woolrich Woolen Mills. I like their packable anorak and blue parka. 
Nigel Cabourn: Lots of Nigel Cabourn stuff. I'm still sour that this washed army Canadian jacket is sold out in my size. 
Buttero: A great minimalist sneaker line. Their white low tops and tan suede sneakers look like they'd be especially versatile. 
Barena: Barena's sport coats seem to look good on everyone but me. Cut short, these are meant to be a casual take on tailored clothing. 
Margaret Howell: I've been really getting into this line lately. This cagoule, for example, looks great.  
Aspesi: Some Aspesi M65 inspired field jackets. Slimmer fitting than the military originals. 
Sunglasses: The discount code surprisingly works on Ray Ban and Persol sunglasses. I'm a fan of the Clubmasters and 649s.  
Drake's: Bunch of pocket squares available, but since they're already on discount, the code doesn't work here. Good prices though.  
Levis Vintage Clothing: The 1947 cut of the 501s is a nice choice if you want a slightly fuller, straight legged fit. 
APC: APC's jeans stretch out easily with wear, which makes sizing a bit frustrating, but with 3sixteens creeping above the $200 mark, the company's New Standards are one the better "affordable" options on the market. I also like their outerwear. 
Orlebar Brown swim shorts: Uncommonly good swim shorts with a darted waist and nice side adjusters. When worn, these look more like a pair of tailored swim shorts than the usual baggy fits you see everywhere else.