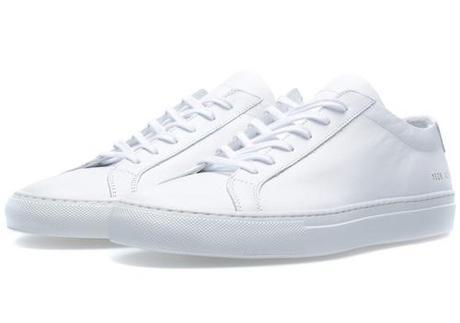 With dress shoes being on sale at Brooks Brothers right now, good casualwear can be found at End. 20% off is given on all items with the discount code SPRING14. Some notables:
Common Projects sneakers: The low top Achilles, which I happen to be wearing right now, is one of the most versatile sneakers I've ever come across. There are many imitators, but frankly, none feel as good to me as the original CPs. The mid-top looks good too, and I still wish these b-ball highs were available in my size. 
Margiela German Army Trianers: My second favorite sneakers. Also surprisingly versatile, and they have a slightly sportier look than Common Projects. I have them in black and white.
Drake's pocket squares: Currently priced at $42 with the discount, which is as low as they ever really go. 
Orlebar Brown swim shorts: I don't know of a better brand of swim shorts. They're darted in the waist and have nice side adjusters. I find this gives them a more flattering look. The Bulldog model, which is what I wear, comes mid-thigh, but if you're of a more athletic build, the Setter might be a better choice. 
Nigel Cabourn: Lots of Nigel Cabourn stuff. Three curses to the guy who bought this washed army Canadian jacket in size 46. 
SNS Herning: Some nice textured knitwear for layering underneath boring outerwear. Three curses again to the person who bought this in size medium. 
Levis Vintage Clothing: The 1947 cut of the 501s is a nice choice if you want a slightly fuller, straight legged cut. 
Nanamica: Their Gore-Tex Cruiser is one of my favorite casual rain jackets. The price is admittedly expensive, but the jacket features a lot of nice detailing (unique pockets, folded back edges on the front, RiRi zippers, and of course that great Gore-Tex material). Available in a very useful navy. 
Aspesi: Some Aspesi M65 inspired field jackets. Slimmer fitting than the military originals.
Arc'teryx Veilance: A great, understated technical wear line. The Byet is simply designed, but has a nice high, high collar. The collar has a flexible interlining that allows it to be somewhat "shaped." Hard to describe, but I find it gives the jacket a good look. 
APC: I hate how APCs stretch out so much, but their New Standard at this point remains one of the better "affordable" jeans. Over the years, 3sixteen's prices have crept up, which means APC the only one that's really available around the $150 price mark. 
Barbour x Norton & Sons: This textured Shetland is great, and I'm surprised it's even still around. Just $100 with the coupon. You can see how it looks layered underneath a peacoat here.