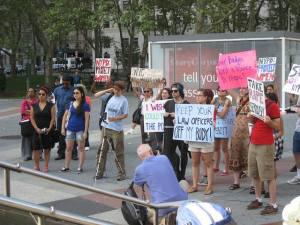 Demonstrators at End Rape NYPD Rally
Last May, hundreds of protesters gathered outside Manhattan's Criminal Court to protest the acquittal of rape-charges against two NYPD officers, Kenneth Moreno and Franklin Mata, who were accused of raping a woman while on-duty. The woman, who had been drinking at a bar with friends, took a cab home; the cab driver called the police to help the semi-conscious woman get into her apartment. Video shows the officers entering her apartment three separate times in the course of that night. In response to the woman's accusations that Moreno raped her while Mata kept guard, Moreno claimed that they had not had sex, but admitted that he got into bed with the half-naked woman and "cuddled" with her. In a recorded phone conversation between Moreno and the woman, he told her that he had used a condom, implying that they did have sex. Moreno and Mata were acquitted of rape charges in part because the court believed the woman had been too drunk to correctly remember what happened. Instead, the officers were fired and convicted of official misconduct.
On Monday, the day of Moreno's sentence for official misconduct, New Yorkers (including yours truly) gathered again to stand in solidarity with victims of rape and sexual assault. The rally was organized by End Rape NYPD, "a coalition of feminist groups, anti-police brutality groups, and local lawmakers working to prevent– and to change the attitudes surrounding– sexual violence in New York City."
Amy Klein of Permanent Wave started off the rally with a speech in which she demanded that Commissioner Raymond Kelly institute a program of comprehensive training on sexual assault for NYPD officers and enact a zero-tolerance policy for sexual assault for NYPD officers. Amy and Heidi Vanderlee (also of Permanent Wave) then led us in chants like "Not her clothes, not her fault, no woman asks for sexual assault!" and "Hey, hey, ho, ho this rape culture has got to go!" We performed a "scream circle" which is basically what it sounds like, people standing in a circle and taking turns (more or less) screaming at the top of their lungs.
A male representative from Connect NYC spoke about the importance of men supporting women in anti-rape efforts and seeing these issues not as merely "women's issues." One speaker encouraged demonstrators to call men out on sexist behavior, whether it's an inappropriate touch on a crowded subway or a sexist attitude in the workplace. A representative from NOW referred to Moreno's one year jail sentence as a victory, amidst demonstrators' calls of "one year is not enough!" and "one year is bullshit!" (The maximum jail-time for official misconduct is two years). One demonstrator, a sexual abuse victim, articulated these demonstrators' point when he took the mic and said, "one year, three years, none of it is enough when I have to live everyday for the rest of my life remembering what happened to me."
Since the rally on Monday, Moreno has been freed on bail pending his appeal of the conviction of official misconduct, for which he will serve one year. Mata, who stood-by while Moreno cuddled with the half-naked woman in her bed, has received a two month sentence, which will begin in September.
This whole story is so completely inappropriate and horrifying. It is really scary to think that calling the police, the people whose job it is to prevent rape and sexual assault, can lead to this sort of situation. And these aren't even the only charges against Moreno and Mata. Since the jury announced its verdict in May, a second woman has come forward, stating that Moreno and Mata sexually harassed her while the officers were on duty. Moreno is also facing drug possession charges for heroin allegedly found in his precinct locker.
Wonderful.
Though the sentences for these men have been made, our fight is far from over. Women should be able to trust the police, not worry about police officers perpetrating the exact same crimes they are supposed to prevent. In the words of a End Rape NYPD flyer I received at the rally, "The NYPD needs to be more vigilant in training its officers and ensuring that there are consequences for breaking the law and violating basic ethical rules." Until this happens, New Yorkers cannot trust the police to protect us. As Judge Carro said in the courtroom on Monday, "When law enforcement officers commit crimes they rip at the fabric that holds us all together. You, sir, ripped a gaping hole."
To get involved, please email [email protected] or tweet #EndRapeNYPD.