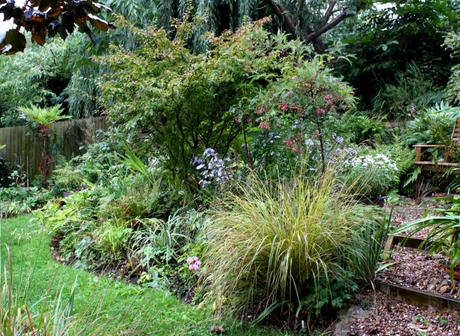 Seriously how is it October? I'm sure it's only midway through September! But at least I have kinda remembered this month to do the End of Month View, albeit a day late.  I forgot all together last month – sorry.
Anyway, Hugh's Border isn't doing too bad considering the general neglect of the garden for some months now.  Things are getting back on an even keel and changes are afoot.  I'm always happier in the garden when I can relocate plants – poor plants.  Because my new neighbours have cleared the boundary line there is now a wealth of sunlight streaming in from the south which means the lighting in the garden has changed giving me new opportunities.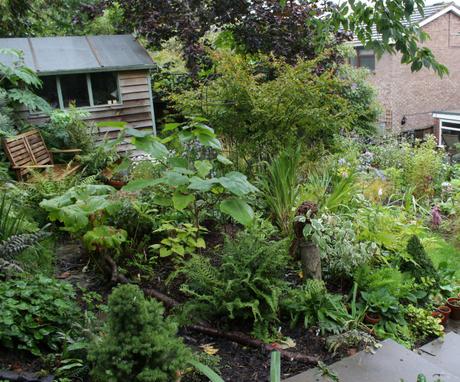 The shady areas have significantly decreased which is good as it means I have more areas where I can plant more sun-loving plants and most plants that do well in shade don't mind a bit more sun.  It does mean that the Big Border which was always sunny is now much more sunny and some plants have struggled this year as it is has been too dry for them.  The Big Border has good drainage so I am going to use it for my hardy Mediterranean and Southern Hemisphere plants and bulbs which are one of my plant weaknesses.  I am slowly but surely relocating the more traditional border inhabitants such as the peonies and roses from the Big Border into the surrounding borders where they should benefit from the improved light but with more moisture retentive soil. If you peer closely at the photo above you will see the rusty metal obelisk which was in the Big Border and hosts a rose and clematis.  They have all been moved to Hugh's Border and had a good dollop of horse manure to get them going.  I like the vertical accent that the obelisk gives this area.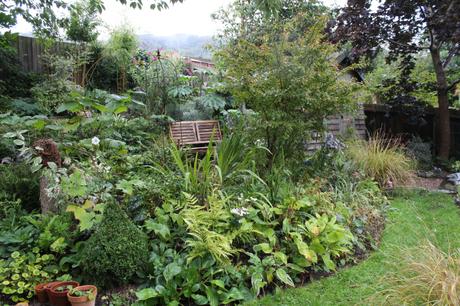 To be quite honest the improved lighting has, I think, made my gardening life easier.  I have really struggled over the years to get good seasonal interest in the shady parts of the garden.  I love foliage but it gets a little dull being the same, more or less, all year.  So for example in Hugh's Border I will be adding some peonies, some more Japanese Anemones, and probably some Pacific Coast irises, as well as more bulbs for Spring.
I've a lot of relocations to do over the coming weeks so I am hoping for some dry weekends as my gardening time is really minimal these days.   And then there is the tidying up and the bulb planting to get on top of ….it is nice to feel enthused again.