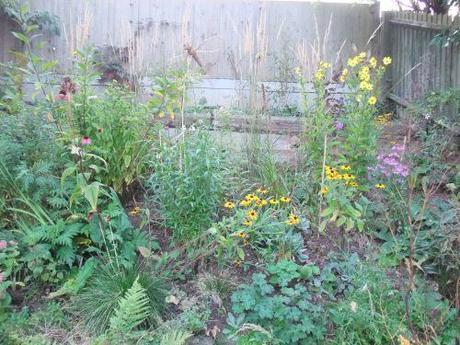 There isn't much change in the garden since last month's End of Month View.  The Daisy Border (formerly the slope border) is filling out and I have been plundering the rest of the garden for daisy flowering plants, there has been quite a bit of dividing but hopefully this time next year it will look wonderful. I have some Camassia bulbs to plant in here to add to the ones I planted last year, they will give some nice spring interest.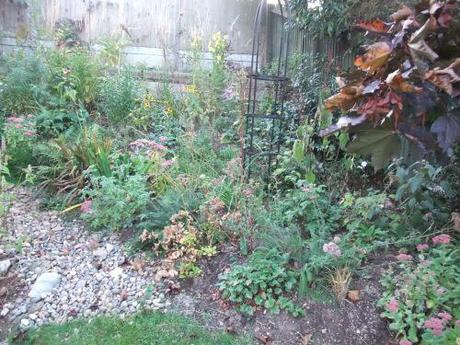 The corner border is looking a little neglected and dry.  I need to clear this border ready for the new pond.  I have more or less mentally found new homes for everything, I just need to get on with moving them.  I discovered today that there are lots of foxglove seedlings in here which I will move to the woodland border.  I won't bore you with another picture of the woodland border as nothing has changed or grown or done anything there since last month.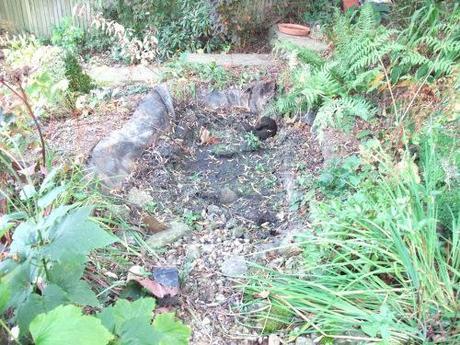 But it hasn't all been inactivity and thinking I have set to on emptying the leaking pond.  As you can see it is now a mud hole and reminds me of that song "Mud, mud, glorious mud".  We have punctured the liner and now I need to remove the plants from around the edge so they can be kept safe while I work on the layers.  Once I have done that I need to refill the hole and reorganise the planting.  The only thing that is stumping me is that the plan is to fill the hole with the soil from the new pond but I can't see that happening until the spring, so where do I store the plants in the meantime.  Some of them are just too big to put in pots.  I will ponder further.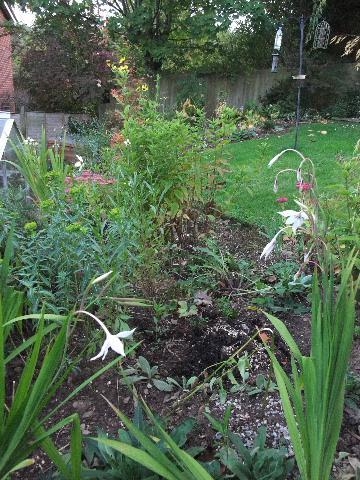 The top of the wall border is looking a little shabby and sparse in places.  This is the border where most of the daisy type plants have been plundered from.  It is destined to be a Cottage Garden style border and I am collecting together appropriate plants in sugary pastels colours to fill the border.  Once I have removed everything that won't work with the new scheme I will be able to see where the gaps are and start to reorganise plants.
So there is my garden, warts and all, at the end of September. If you would like to join in with this meme please feel free to, you can use it for whatever purpose you wish but many find it helpful to focus on a certain part of the garden through the year to see what is or isn't working.  If you do join in please post a link to your post in the comments box